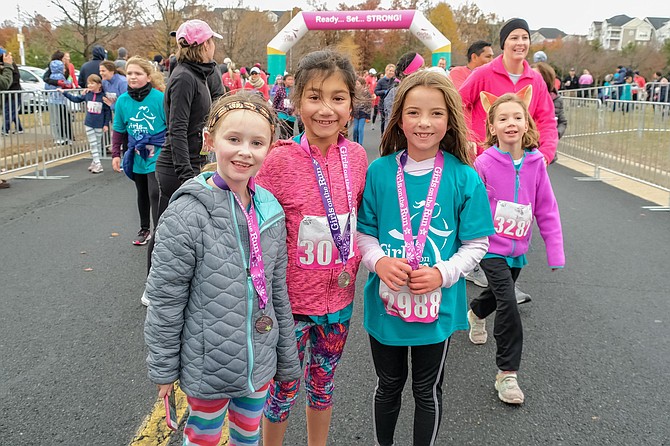 It's a new year and Girls on the Run of Northern Virginia (GOTR NOVA) is celebrating its 20th year of empowering girls to be confident, healthy and strong. Since it began in 2000, Girls on the Run NOVA has served more than 70,000 girls throughout the region. And, every step taken has a story.
This program for girls in third through eighth grade encourages participants to recognize their individual strengths and celebrate connections with others. Each season, girls gain a better understanding of who they are and what's important to them, the value of teamwork and healthy relationships, and how they can have a positive impact on the world. Running is woven into the program to inspire healthy habits and teach life skills including treating others with care, practicing gratitude and managing emotions. The season culminates with the Girls on the Run 5K event that provides girls with a sense of accomplishment and instills the value of goal setting at a young age.
Studies show that by adolescence, girls' confidence drops about twice as much as boys'. Friendships become more complicated and challenging, girls' perception of their academic ability declines, the likelihood of anxiety and depression increases and participation in physical activity plummets. Girls on the Run NOVA provides girls the lifelong tools they need to face challenges.

An Arlington coach shared a highlight from this past Fall during their team's practice 5K: "A girl cried with pure joy at the end of our 5K practice. She was so proud of herself." Another coach from Falls Church described a girl who during her seventh season of Girls on the Run NOVA became a real leader with the younger members of her team.
"We are excited to celebrate 20 years of strong girls throughout the entire year. At GOTR NOVA we believe strong girls become strong women who build strong communities," says Nicole Wright, GOTR NOVA's Interim Executive Director. "The program's success is a result of the hundreds of dedicated volunteer coaches who mentor and lead teams in their communities and our generous supporters who ensure financial barriers do not prevent any girl from having access."
In 2020, Girls on the Run NOVA will celebrate this monumental anniversary with activities throughout the year. As well as continuing their focus on growth in Prince William and Loudoun Counties, increasing the number of participants receiving financial assistance, and aim to serve more than 80,000 by start of 2024. They will kick off their 20th year with program registration for the Spring 2020 season opening on Jan. 27. Teams are now forming around the region at schools, community centers and in neighborhoods. For more information on how to be a part of this celebration year with Girls on the Run, visit www.gotrnova.org.