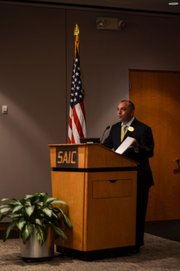 On Monday, May 20, The Council for the Arts of Herndon presented the ninth Annual SAIC Technology and the Arts Competition Awards Reception at the SAIC Conference Center in McLean. The event was free and open to the public.
"It has been a program that keeps us from being just about Herndon, but also doesn't distract us from our main mission, which is art development in Herndon," said Council for the Arts of Herndon Director Signe Friedrichs. Friedrichs became director in 2012, taking the position from Vicky Dorman.
Both Dorman and Gerald Connolly helped begin the Technology and the Arts Competition Awards Reception, and with corporate support from SAIC, the program has been developing. "SAIC has been a wonderful sponsor," said Friedrichs. "They have done everything you can imagine to help us with this."
The program began with a focus in only Herndon, but has since expanded to Fairfax County and Arlington County high schools. Students who take part in the competition submit entries at their schools. Teachers select which works will be entered in the contest and professionals and experts in the field then judge students.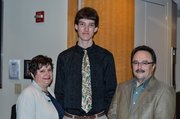 "Next year we are looking for the event to become much bigger because we will be getting more participation from schools that have not participated before. We are also thinking of expanding into video game development," said Friedrichs.
Introduction was given by Council for the Arts of Herndon board member Cesar Del Aguila. Other board members attending the ceremony included Grace Wolf, Sheila Olem and Signe Friedrichs. SAIC New Media Manager Chris Green gave some remarks before the awards were handed out.
Awards in the competition include a top prize of $1,000 and monetary awards for those who place or receive honorable mention in each category. Jurors for this competition included Keith Naquin, Lee Love and Charlotte Rinderknecht. The contestants and participants in this competition came from schools including James Madison High School, Herndon High School, West Potomac High School, Oakton High School, Fairfax High School, McLean High School, Lake Braddock Secondary School, Bryant Alternative School, Robinson Secondary School, Langley High School, WT Woodson High School, Falls Church High School and Mt Vernon High School.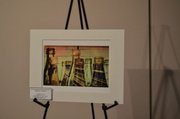 The first place prize for Digital Art was given to Jeung hyun Park of James Madison High School for her work "Bottled Memories." The first place for Digital Photography was given to Dakota Craig from Robinson Secondary for his work "Spring Snow." For Digital Animation, a first place award was given to Max Johnson from Falls Church High School for his work "Dispensed." A SAIC Sponsors Choice Award was given to Herndon High School student Briana Bui for her work "Taken by the Wind."
Rep. Gerald Connolly (D-11) made official remarks published on May 16, recognizing the winners and participants of the Council for the Arts of Herndon's Ninth Annual SAIC Technology and the Arts Competition. In his statement Connolly said, "This program also showcases how creativity extends beyond the arts into a crucial component of our local and national economies."