Edgar and Virginia Aznar of Burke announce the upcoming June wedding of their daughter, Myra Aznar, to Jason Simon, in Charleston, S.C. Jason is the son of Steve and Karen Simon of Heritage Court, Conn.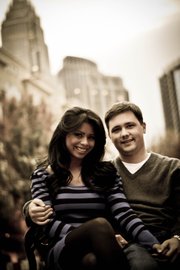 The bride-to-be is a 2001 graduate of Lake Braddock High School and received her fine arts degree from Virginia Tech University in 2005. She is currently working as a senior graphic designer with Pelton and Crane in Charlotte, N.C. In her spare time, she was a member of NBA Washington Wizards Dance Team before moving to Charlotte and presently, is an NFL cheerleader for the Carolina Panthers.
The future groom is a 2001 graduate of Wilton High School in Wilton, Conn. He received his degree in kinesiology from James Madison University in 2005. After working as game operations manager for the Washington Wizards, he moved to Charlotte, N.C. and joined NBA Charlotte Bobcats as director of event presentation.