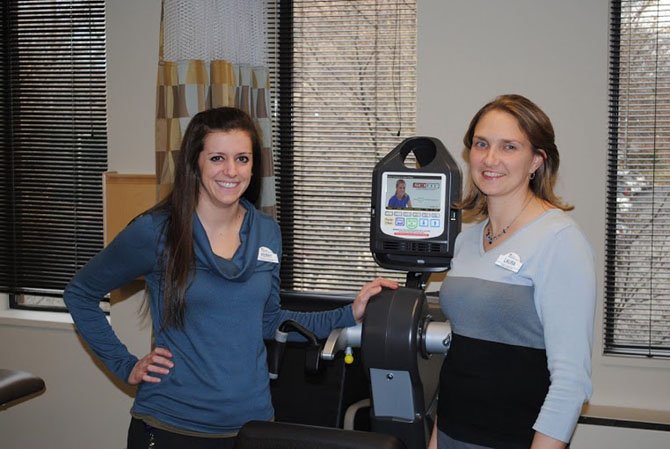 McLean — MedStar National Rehabilitation Hospital Network has opened a new outpatient facility in downtown McLean. The facility aims to provide complete care for both orthopedic and neurological rehabilitation needs.
"We have a number of sites in the region, but we're always looking at more possibilities in Northern Virginia. McLean appealed to us because our research showed that a lot of people had to go someplace else for care," said Rob Hartmann, vice president of marketing for MedStar National Rehabilitation Network. "Our goal with this facility is to provide a one-stop shop where you can be seen by a doctor, brought right into radiology, then onto physical therapy as needed. This is part of a growing medical trend which involves multiple hospitals with substantial areas of expertise coming together."
THE SITE FEATURES orthopedic surgeons, neurologists, neurosurgeons and radiologists, a result of a partnership with the MedStar Georgetown University Hospital.
"This facility will bring new services to the area, such as neurological rehabilitation services, which we don't believe is currently in McLean," said Laura Nemets, the clinic manager. "A lot of the services we provide would have previously required a trip to Georgetown."
Nemets said they are looking to get involved in the community, and they've already started by sponsoring a McLean Little League team.
"We're hoping to do some outreach, maybe something where we can look at players and hold screenings to look at how they're throwing, how their shoulders are moving and be able to tell what could cause them problems in the future," she said. "For young players, it's important to start off with the right techniques, because if you're doing it wrong, arms tend to tire quicker and your body tries to compensate, leading to injury."
The facility has a special emphasis on dealing with athletic injuries, everything from fixing problems in a runner's gait to preventative measure to help a young pitcher keep their shoulders strong, or a runner keep their ACL healthy. They also specialize in helping diagnose and treat concussions.
"Concussions are becoming a major issue for all athletes. People hear about the players in the NFL that suffer from them, but it's just as much as an issue for kids playing soccer or any other sport," Hartmann said. "It's a condition where the diagnosis can be somewhat complicated and the effects can linger and be life-altering. And once you've had one, studies show you're prone to having more, which has cumulative effects."
One of the facility's prominent features is the AlterG anti-gravity treadmill, which allows for rehabilitation for those who have had knee surgeries, pulled muscles or other running-related injuries.
"The AlterG is an Olympic-level rehabilitation tool that's used in a lot of major sports," Hartmann said. "I used it myself after a knee replacement after an injury, you can run while only supporting about 25 percent of your body weight, and work your way up to 90-95 percent. And it allows you to start around two weeks after surgery, which prevents the loss of muscle tone and more importantly, muscle memory."
MORE INFORMATION on the facility can be found at www.medstarhealth.org/McLean.