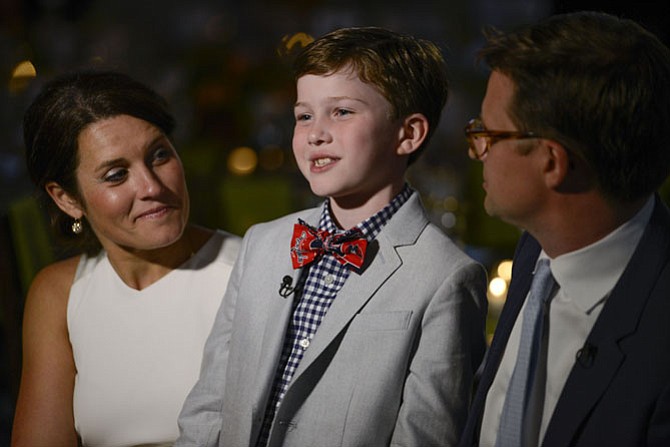 A little more than a year ago a devastating sledding accident put McLean native Bensten Schone in a coma—the result of a serious traumatic brain injury. On April 20, the 7-year-old proudly walked on stage with his parents, Heather and Lance, at MedStar National Rehabilitation Network's 30th Anniversary Gala to accept a Victory Award. During the past three decades, MedStar National Rehabilitation Network has celebrated the "Victory of the Human Spirit" by recognizing individuals who have met and overcome serious challenges.
Bensten, a huge Washington Capitals fan, was nicknamed "B-Man" by the hockey team, who rallied behind him throughout his recovery. "Everyone—friends, family, neighbors—helped us through this journey," Heather says.

"Initially, it was a difficult vigil waiting to see if he would wake from the coma. But once he came to MedStar National Rehabilitation Hospital (MedStar NRH) it was as if we all turned a page," she adds. "Then it was about teaching him to swallow again, sit up, and speak. And throughout it all, everyone at MedStar NRH encouraged us and Bensten. Most important, it is such a family-oriented environment—and that is so important to recovery. Some days there were eight or more of us in Bensten's room—and that was just fine."
For Bensten the best thing about rehabilitation was that it was fun. "My doctor asked me about what I like and what I needed to learn and put them together," says Bensten, who also did some of his rehabilitation as an outpatient at MedStar National Rehabilitation Network's McLean location (6858 Old Dominion Drive, Suite 200, McLean).

Last April, Bensten returned to McLean Little League to throw out the first pitch—into the hands of Nationals outfielder Jayson Werth. It's a moment this little sports enthusiast isn't likely to forget—nor is the powerful lesson this special young man learned during a very difficult time in his young life. "I learned that if I try real hard I can do anything. And that will help me for my whole life," the "B-Man" says.