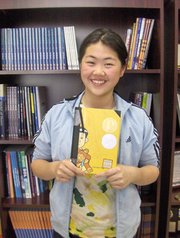 Centreville — A Rocky Run Middle eighth-grader, Christine Wang, has won first place (for grades six through eight) in the Letters about Literature contest sponsored by the Library of Congress. She wrote her award-winning letter about the book, "American Born Chinese" by Gene Luen Yang.
Christine, 13, got to read her letter recently at the Virginia Festival of the Book in Charlottesville. The book's a graphic novel in hard-cover, comic-book form. It contains three connected stories that become one at the end, and they appealed to her on a personal level.
"One story's about a boy who's ashamed of his Chinese cousin, and another's about a boy tired of being Chinese," said Christine. "I liked the characters because they were strong and interesting, and I identified with them because of my heritage."
Born in Maryland, she moved to China at age 4 and returned to the U.S. at age 10. "When I first moved here, it was kind of hard because I was used to everyone being like me," she said. "Then I didn't want to be Chinese — I wanted to fit in and be like everyone else."
Besides that, said Christine, now 13, "Everyone thought that, because I was Asian, I should get good grades." Additionally, she was new to Rocky Run this year because her family had moved over the summer.
So, she said, "When I was reading this book, at the beginning of the school year, it was tough for me because I was the new kid again. But so was one of the characters in the book. I read it over a long period of time and, when he made his first friends, I made mine."
In the book, said Christine, that character "tried acting and dressing like an American, but it all backfired. So it taught me to just be who I am and not try to be someone else, so I wrote all these things in my letter. I was surprised to win; I was hoping to be a finalist. But I'm happy about it; I worked hard on the letter and I'm glad it got something."
Also pleased for Christine was her English teacher, Heather Hogue. "It's such a huge honor and I'm so proud of her," said Hogue. "She has a great way of expressing her emotion in writing and tapping a deep wellspring of intelligence and creativity. And it's a pleasure to have her in class."