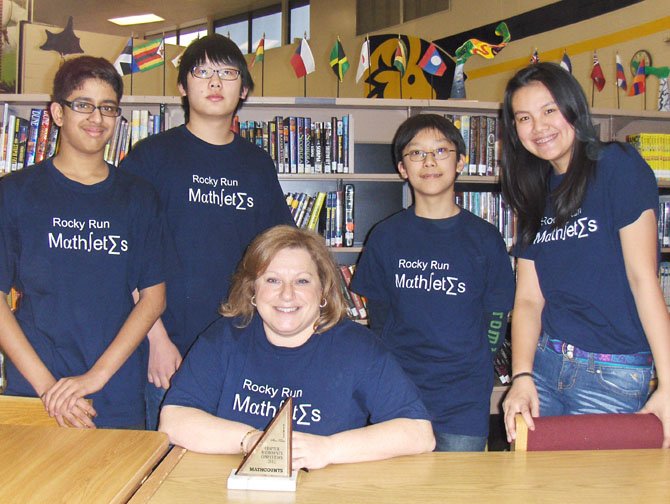 Besides bringing home a state championship from Richmond last weekend, members of Rocky Run Middle School's MathCounts team had another goal, as well.
"We have a really good team," said Joie Wang before the competition. "We're ready to beat Longfellow Middle School, which has won it for 26 years."
Sample MathCounts Problems
A. Jax bought exactly enough trees to plant eight equal rows. Then one tree died and couldn't be planted, but he still had enough trees left to plant exactly nine equal rows. After that, a tree was stolen, but he still had enough trees left to plant exactly 10 equal rows. If he bought the least number of trees satisfying these three conditions, how many trees did he buy?
B. In a class of 28 students, the teacher selects four people at random to participate in a geography contest. What is the probability that this group of four students includes at least two of the top three geography students in the class? Express your answer as a common fraction.
C. Ryan's letter weighs 9/10 oz. Stamps weigh 1/30 oz. each. The cost of mailing the first ounce, or fraction thereof, costs 37 cents; each additional ounce, or fraction thereof, costs 23 cents. If Ryan only has 1-cent stamps, how many stamps should he use? Remember that he is paying for the weight of the stamps, too. Assume there are no physical constraints regarding the number of stamps or the size of the envelope.
D. For positive integer n, such than n<10,000, the number n + 2005 has exactly 21 positive factors. What is the sum of all the possible values of n?
E. A point inside a square is positioned so that the distances to the four vertices are 27, 21, 6 and x units. If x is a whole number, what is the value of x?
Answers: A. 352 trees; B. 37/819; C. 152 stamps; D. 16,592; and E. 18.
And with talent, skill and determination, that's exactly what she and her teammates, Rajat Khanna, Robin Park and Alec Zhang, did. On March 17, vying against some 50 teams throughout Virginia, they captured first place in States. Longfellow was second.
In addition, their team captain, Robin, finished second in the state. That means he'll now compete in Nationals, May 10-12, in Orlando, Fla., with the three other highest scorers. Rocky Run's coach, math teacher Melanie Roller, will coach the Virginia team.
"It was overwhelming and really exciting," said Roller of her team's victory. "I told them beforehand to just have fun with it. I thought this team had the possibility of winning; they're dedicated, work very hard and all work well together."
ROCKY RUN'S CHAMPION eighth-graders have been a successful MathCounts combination for three years. "We're the same team that participated for Greenbriar West [Elementary] in sixth grade," said Rajat.
"These guys work hard," said Rocky Run Principal Matt Eline. "And besides being smart — some of the brightest kids in the school — they're also nice. They have a great coach, too."
All four were thrilled with their performance at States. "I'm honored and excited that we broke Longfellow's streak," said Alec. "I'm proud that, this time, we owned them. Schools get lots more trophies for things like sports, so winning one for math is really special."
Rajat, too, was "proud to be part of the first Rocky Run team to have won this state, first-place award for our school." He said employers today "look for advanced innovation, and math can take you there. You can't find something that doesn't have math related to it."
Added Joie: "It feels like we're role models, in a way, for little kids to look up to." Robin noted it's practical to be skilled at math because it plays a part in almost every career.
"Even musicians and artists use it," he said. "Math is always around, so winning a math competition is special because it's something we can work with in the future."
Open to sixth-, seventh- and eighth-graders, MathCounts is a club that meets one or two times a week, after school, to solve various types of complicated math problems. Its members vie against other teams in chapter, state and national competitions, and the problems they face are so challenging that the competitors are called "mathletes."
The contests consist of particular tests:
Sprint round – 30 word problems to solve in 40 minutes without calculators;
Target round – Four sets of two problems each. Students have 6 minutes per set and may use calculators. Each problem is usually a paragraph long and is much harder than the ones in the sprint round.
Team round – After competing individually in the other two rounds, all four team members have 20 minutes to work together and solve 10 word problems.
It's a puzzle, and you're getting the right pieces to fit into the spots," explained Roller. Similarly, each member of her team brings a specialty to the table that combines with the others' expertise to make a terrific team.
"Robin and Rajat are good at probability and Alec's got a number theory," said Joie. "I'm good at patterns and analytical thinking."
"I think they're the perfect mix of different math qualities, and they all support each other and work well together," said Roller. "They explain things to each other and they all like to be challenged."
The Northern Virginia Region has three MathCounts chapters; the George Washington chapter contains nine schools; Northern Virginia, 18; and Fairfax, 26. Rocky Run's in the Fairfax chapter. There are more than 100 students per chapter and 450 students total in all three chapters.
Rocky Run won the chapter championship Feb. 18 at Lake Braddock Secondary School. "We trained a lot and it helped," said Joie. In the Best Individual Performance portion, Robin was first in the Fairfax Chapter and Joie, third. The top 16 students out of all three chapters then competed in a countdown round.
"It's a single-elimination round, and problems are flashed onto a screen," said Robin.
"The most you get is 45 seconds, but many people answer in less than 10 seconds," said Joie.
"Two people go against each other; and whoever solves the question first presses a buzzer and tells the answer to the judges," said Robin. "They answer three questions and, whoever has the greater amounts of points progresses to the next bracket to compete against other people."
Both Robin and Joie made it into the top 16 of all 450 students — and Robin came in number one. "I was happy when I won," he said. "But I was nervous before."
"There are hundreds of people watching you," said Joie. And, added Rajat, "In the time it's taken you to get it wrong, your opponent has solved it."
Rocky Run's team captured first place in chapters last year, also, taking second in States — by .75 of a point to first-place Longfellow. Individually, Robin was ranked number one in the entire state.
Explaining what he enjoys about MathCounts, Robin said, "I like it because it's about math. I like the fact that there's an underlying elegance in the problems because there's a complex solution and a shortcut to the answer — and it's fun to find that shortcut."
Rajat said most of the problems have a trick behind them. "There are so many ways to get to the answer, but only one correct answer," he said. "Math is always constant — nothing changes."
"I like numbers, to begin with," said Alec. "And I like MathCounts because there are endless possibilities and you can find your own, unique solution to claim as your own. There are countless, never-ending math problems and math solutions — and endless math fun."
Joie, however, likes geometry and shapes the most because "it's nice how they form a pattern. When I was in sixth grade, I started developing my love of MathCounts, and [our team] started becoming like a family."
One of the best parts about Rocky Run's victory at chapter level, said Alec, was eclipsing Kilmer and Rachel Carson middle schools. "They're our main competitors and they're really good," he said. "Until our chapter win last year, Rocky Run hadn't won since 2001."
Then last Saturday, March 17, each chapter's top team competed in States. Rocky Run's mathletes looked forward to it for several reasons.
"It'll be a good experience for us because we'll be exposed to higher-level problems like we'll see in high school and college," said Rajat. "We'll meet new people and learn new things — and being acknowledged as a top math student is a good feeling."
It's also important to him to succeed academically because of his family. "India's competitive and, where my dad comes from, he was number one in every subject since middle school," said Rajat. "So I feel like I'm following in his footsteps."
All four Rocky Run's mathletes are straight-A students, but they had to earn their spots on the team. Actually, said Roller, 123 students tried out. "I picked the top four through competitions," she said. "I also matched their personalities for working together."
They, in turn, are happy she's their coach. "She's lighthearted and keeps us in a good mood," said Rajat. Joie called her encouraging and said Roller tells them funny jokes.
"She's really nice and helps us with our math," said Robin. "She's enthusiastic and awesome to be around, and it's obvious she enjoys math as much as us," added Alec. "She's very involved."
"I like to keep math fun with jokes, humor and puzzles," said Roller, who's coached MathCounts for eight years and this group for two years. "I feel fortunate to have had the opportunity to have worked with these students."
"Besides being competitive and good at math, they're good people and fun to be around," she continued. "They're genuine and truly care about each other and other people. They're truly the cream of the crop and I'm very proud of them."