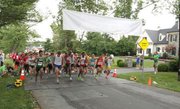 Potomac — Before watching the July 4 fireworks or chowing down on some mouth-watering barbeque, make it a mission to run or walk in the 13th annual "Autism Speaks" 5K/1 Mile Fun Run. Each year, the Potomac Library is the gathering place for this race which attracts more than 1,400 runners and walkers — all to raise awareness of the plight of children affected with autism and their families, as well as to raise funds to support research and programs for autistic children and loved ones.
The Autism Speaks 5K Run – 1 Mile Walk will begin at 7:30 a.m. with a pre-race warm-up. Runners in the 5K road race will take off at 8 a.m. and the 1-mile walk will begin at 8:05 a.m. Runners in the 5K race course will have the opportunity to dash through residential neighborhood streets and finish with a long downhill. Music and food will be provided immediately after the race. The meeting place is the Potomac Village Library parking lot, 10101 Glenolden Drive, Potomac and parking is available in surrounding neighborhoods.
Anne and Ed Nuttal are the co-chairs of this year's event. They have participated in the race for 8 years as a personal commitment as well as to celebrate the growth and accomplishments of their son Owen, who is autistic. When they joined the race, they formed a small team named "Owen's Turn" which has now become a band of 50 dedicated runners and walkers who raised more than $12,000 last year.
"Owen turns 14 this year. He is growing into an amazing young man and strives to be more independent in his daily life. Owen wants to help, he wants to contribute to a conversation, he wants to participate in social activities with his peers and adults — Owen wants to be accepted and included. He may not be able to tell you that with words, but his compassionate spirit, his warm smile, and his enthusiastic laughter leave no question about his importance in the world. Owen and so many other children like him are leaving their mark on the world and we are each better, kinder, and more accepting of each other because we are lucky enough to know and love these children," said Ed Nuttal.
Those with plans to be out of town on July 4 can still participate in Autism Speaks run by registering for the "Virtual 5K." Register via the website, receive the performance shirt in advance and run or walk on July 4 — wherever. Build a team, coerce beach buddies, or get one's family up and running. Last year, virtual runners from all over the world participated. The Virtual 5K deadline to receive the shirt before July 4 is June 24. Those who register later will still receive a shirt, but it will be delivered after July 4.
Susan Pereles, director of Field Development for Autism Speaks, National Capital Area, and the founder of the race, states that research and advocacy are priorities of the organization. "However, adult care options for employment and residential living are also major concerns," she said. "Our country does not have a plan to deal with the number of autistic children who will be reaching adulthood. We need to set up education, employment and living arrangements for these disabled adults. We must train them to be contributing citizens of our society. Another major priority is early identification of autism. If autism is identified in a child as early as 18 months to 2 years old, then applied behavioral therapy will make a difference in the child's life."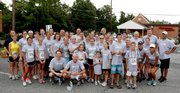 Churchill's track and field coach Dave Warren has volunteered for many years; this year, he is helping to set the course and manage the volunteers. Teams are a priority, and he is trying to help them with fund-raising and increasing their size. Every year he leads a Churchill running team for the race. "I just hope that the kids get involved in their own community and try to do some good in the world," he said.
Pereles added, "We are trying to encourage teams to promote the event with their friends and families to bring more people out. It's a wonderful way to come together with other family members and friends for a common cause."
One hundred teams have participated in many of the past years. Prizes are awarded for the largest team, the team that fundraises the most, the top school team (dollars raised), top swim team (dollars raised), and best team t-shirt. Sponsor Potomac Pizza donates a pizza party to the MCSL pool team that raises the most money.
The entry fee for adults participating in the 5K run and 1-mile walk is $35 ($40 on July 3 and 4) and $15 for children ages 14 and under. Race t-shirts are only guaranteed for those who register prior to race day. For more information, to register or to donate, go to www.AutismSpeaks5k.org.