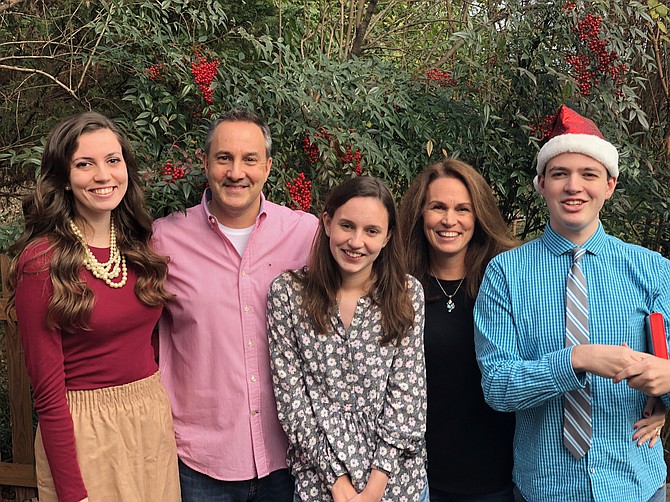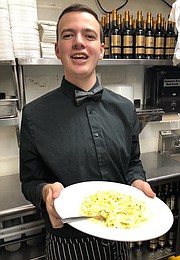 Owen Nuttall loves music, working at a local restaurant and making people laugh. The 20-year-old Centreville resident also has autism; and this weekend, he and his family and many others will participate in the Autism Speaks 5K Run/Walk.
It's this Saturday, Aug. 17, at 9 a.m., outside the Fairfax County Government Center, 12000 Government Center Parkway in Fairfax. And since autism impacts 1 in 59 children in the U.S., this family-friendly event aims to increase understanding and acceptance of the autism community.
It's the inaugural Autism Speaks 5K in Fairfax, and Owen will be doing it with his family and friends on a 50-member team called Owen's Turn. "Those were the first two words he spoke," said his dad, Ed Nuttall, an attorney in Fairfax City. "It was while playing a game when he was 6. We've been doing this race in Potomac, Md., for 15 years, so when the organization asked if I'd help put one on in Fairfax, I said yes."
THE NUTTALL FAMILY, of Sequoia Farms, also includes Owen's mom, Anne, the race co-chair, plus sisters Emily, 22 – who lives in Boston, but is coming home for the event as a surprise for her brother – and Meghan, 16, who has severe epilepsy and is Owen's best friend. Meghan is in Paul VI High's Options Program, and many Paul VI teachers and students will participate in the 5K, too.
The race also raises money for Autism Speaks, a national nonprofit which advocates for individuals with autism and supports them and their families. In addition, it does state, local and federal lobbying for adults and youth with autism.
"Most recently, it got legislation passed in Virginia giving health insurance to people of any age with autism," said Nuttall. "And that's also thanks to the Virginia Autism Project, another lobbying group that refers people for services."
Some 85 percent of the race proceeds will go toward research or local grants for people with autism, and Nuttall hopes it'll raise $50,000. People may participate individually, form their own teams or join existing ones. Entry fees are adults, $40, through Aug. 15, and $45 on race day; and $20 at all times for children 14 and under.
Registration at http://act.autismspeaks.org/site/TR/TeamUp/TeamUp?fr_id=4551&pg=entry
is available until Aug. 15 at 5 p.m. People may also register on race day (get there by 8:30 a.m.). Packet pick-up is Aug. 17 at 7:30 a.m. Those unable to participate, but wishing to contribute to the cause, may donate at the Website, either individually or to any team.
The course is a 3.1-mile loop around the Government Center. Awards go to the top five overall male and female finishers, top male and female finishers age 40 and older, and top three male and female finishers in various age groups. All participants receive commemorative T-shirts and medals. For safety reasons, wheelchairs, strollers, baby joggers, skates, pets and headphones aren't permitted.
As for Owen, his dad says he needs 'round-the-clock help with the activities of daily living. "He's largely nonverbal, but he understands everything you say," said Nuttall. "His goal is to help people."
He's a 2018 Westfield High grad and currently attends The Davis Center for training in career and employment skills. He also works as a busboy, a couple days a week, a few hours a day, at Ciao Osteria, an award-winning Italian restaurant in Centreville.
"He's been there a year and loves it," said Nuttall. "Everyone treats him really well, and it gives him a sense of purpose and camaraderie. Owen loves to eat French fries, and after his shift, Chef Anthony makes fries especially for him."
OWEN also loves music, ranging from opera to The Wiggles. He enjoys running and likes memorizing lines from movies, TV and songs. And, said his dad, "He loves dressing up in a bowtie, shirt, slacks and dress shoes – all the time, every day."
Owen also likes participating in the Autism Speaks 5K, and Nuttall hopes this year's event will get a great turnout. "The run brings everybody in the community together," he said. "And it's a time when Owen can go to something with others like him and be accepted by everybody, without question."
Major sponsors are Carroll & Nuttall, P.C.; Greenspun Shapiro; Virginia Autism Project, Freedom Bail Bonds and Wegmans. To learn more about autism, go to www.AutismSpeaks.org.