Photo Gallery
Farm Fundraiser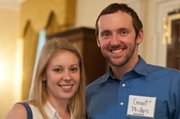 Click Photo for Flash
Potomac — Gov. Martin O'Malley's words greeted supporters at the Brickyard Educational Farm event at Glenview Mansion in Rockville on Friday, June 14.
"Brickyard Educational Farm aims to teach students about local and sustainable food and agriculture, and to show them how the food they eat is grown. The farm's vision is to supply organic produce for school lunches and to offer field trips, a Beginning Farmer Program, apprenticeships and internships to students in neighboring schools," wrote O'Malley.
"The vital connection between our farms, the food we eat and our children's future has never been more important than it is right now. On behalf of the State of Maryland, please accept my wishes for a successful event."
Approximately 200 people attended.
"Tonight is not just a fundraiser, it is a celebration," said Carissa Lovelace, the campaign director for Save This Soil. Although Brickyard Education Farm isn't able to farm on the site right now, "it is a big victory because the farm hasn't been bulldozed," she said.
"Together we have saved this soil from being destroyed, and now we must ensure that the land is used for educational purposes. Help us save this soil for the children of Montgomery County," she said.
More than two years ago in March 2011, Nick Maravell, neighbors and civic organizations in Potomac learned that County Executive Ike Leggett had already decided to take control of the 20-acre school property on Brickyard Road to turn it over to a private organization for development into soccer fields. Maravell, who had leased the 20-acre site from the Montgomery County School Board for more than 30 years, operated an organic farm but was forced off the property in February 2013. Maravell's daughter, Sophia Maravell, ran the Brickyard Educational Farm on the site as well. After protests and court challenges, the county gave up the plans for soccer and the lease, but MCPS has not allowed the Maravells to continue farming.
Next steps for the 20-acre property on Brickyard Road are uncertain.
"What can be more important than teaching young people" the connection between land and their food supply, said Wenonah Hauter, executive director of Food and Water Watch and author of "Foodopoly."
Barnes and Noble donated 35 percent of book sales to the Brickyard Education Farm. A silent auction offered art work, restaurant meals, boxes of vegetables from the farm, Potomac flags and more.
Hauter and Sophia Maravell, co-founder of Brickyard Educational Farm, both grew up on a farm. "I'm passionate about sharing this land with students of Montgomery County," said Maravell.
Maravell highlighted her vision of continuing farm field trips where children learn by planting their favorite vegetables and becoming environmental stewards.
"The 2,000 students we reached last year were eager to learn how they can be part of a more sustainable world. This year our goal is to reach 5,000 students and create a community of young people that are committed to preserving our local agricultural heritage, and, in turn, our planet," said Maravell.
Maravell also shared her vision to teach the next generation of farmers, to offer organic produce to local schools, and to generate a seed program, passing on the seeds from her father's farm that has operated for more than three decades on the Montgomery County Public School site. The Brickyard Educational Farm has continued to operate on a smaller piece of property adjacent to the Brickyard site.
Attendees were given seed packets of heirloom corn grown on the site as well as basil plants to take home and grow.
The Brickyard Education Farm also announced its Honorary Committee, which includes Councilmember Valerie Ervin, Councilmember Marc Elrich, Councilmember George Leventhal, Sen. Brian Frosh, Sen. Jamie Raskin, Del. Bill Frick, Del. Bonnie Cullison, Del. Susan Lee, Del. Sheila Hixson, Del. Kirill Reznik, Del. Brian Feldman, Del. Ariana Kelly, Del. Luiz Simmons, Del. Aruna Miller, Del. Anne Kaiser, Del. Jeff Waldstreicher, Del. Kathleen Dumais, Del. Tom Hucker, Del. Shane Robinson, many of whom attended the event.