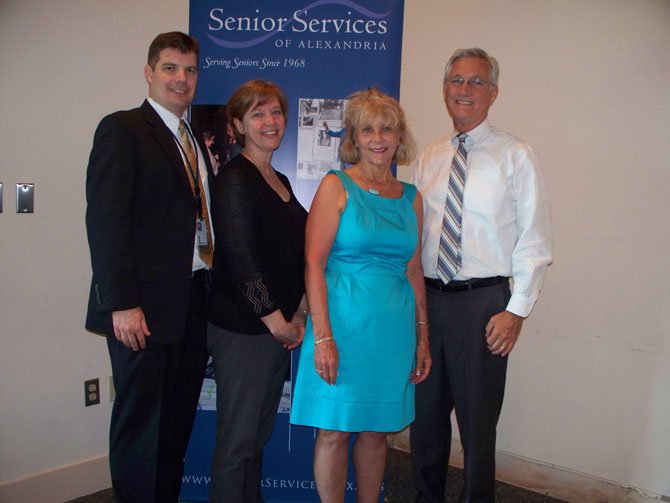 Thanks to the generosity of BB&T Bank through its Lighthouse Program, Senior Services of Alexandria wrapped up its 2012/2013 speaker series with a special session on a topic that everyone thinks will never affect them — identity theft and fraudulent schemes.
More than 100 people gathered at the Charles Beatley Central Library to hear from the bank's Corporate Investigation Branch and the Alexandria Police Department about what everyone needs to know to avoid falling prey to scams and fraud in our city. During the session, there was a lot of laughter and understanding nods, but everyone knew that identity theft is no laughing matter.
As SSA's President Greg Murphy reminded the crowd in his welcoming remarks, "Remember: there is no free lunch, and if it seems too good to be true, it is."
When asked, a show of hands in audience revealed that only a handful of people had been victims of identity theft. Only about 10 use an identity theft service, and the experts recommend this for everyone. However, it turned out that nearly 100 percent of the audience had a shredder and used it
Both speakers provided real-life scenarios of scams such as notices saying that you've won a prize, or free money. Those who respond to with these types of scams — for example depositing a very realistic looking counterfeit check or money order for someone and sending them cash immediately — are further targeted by the same scammer and their names are sold to other scammers.
Other examples include credit card fraud by using a skimming machine to get credit card information or using a machine that can fabricate new credit cards. If your intuition tells you something's not right, report it to police department or your credit card holder. Also, do not discuss or give personal information, i.e. social security numbers over phone with someone identifying themselves as your bank or bank card.
Seniors are especially vulnerable to scams, and it's easy to fall into the trap when you receive a call from someone identifying themselves as a grandchild who says that they are in a foreign country and need money. Never provide any financial data, banking account numbers, etc. This type of activity referred to as "phishing" is a trick criminals use to see if they can get anyone to bite.
Also some unscrupulous people may alter your checks to indicate a higher amount of money for work rendered if you have shown yourself to be an easy target. They will continue to come back for more work or refer you to their friends. Real examples included people losing $60,000 to $100,000 on these scams over time. It's important that you check your bank account and checks to see if the original amount of the check has been tampered or the amount changed.
Never get into a situation of paying the bills for a caregiver or anyone in your life who tugs on your heart strings beyond the work they do for you — car repairs, electric bills, etc. can add up if you are helping people out. Let your family know and they will help you, kindly, extricate yourself from this seeming obligation.
By now you probably don't trust anyone, but the take-away from the session was that knowledge is power and you need to be attentive when talking to anyone about your personal finances, including never sharing personal information over the phone or with people you don't know. Most importantly, don't be embarrassed to report fraud and scams. Remember the old saying — "better late than never."
If you want more information about how you can prevent identity theft or potential scams, visit your financial institution or contact the Alexandria Police Department at 703-746-4444.
Also, please remember to mark your calendar for the next speaker series event in the fall, Senior Law Day, on Saturday Oct. 19 at First Baptist Church, 2932 King Street. SSA cosponsors this event with the Alexandria Bar Association that brings together experts to provide valuable information about aging-related issues that will have an impact on everyone.