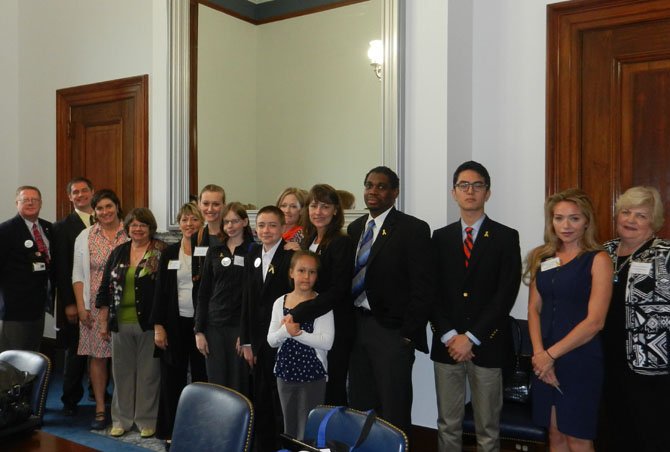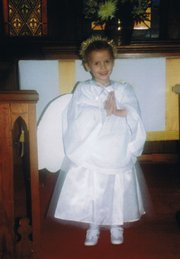 Centreville — It's too late to save her own child. Meg Crossett's daughter Rachel died of a cancer called neuroblastoma on July 3, 2001, at age 6. But she's doing her best to improve the quality of care for other children battling the same disease that took Rachel's life.
On Tuesday, June 18, this resident of Centreville's Pleasant Hill community joined forces with more than 150 patients, survivors and their families on Capitol Hill to ask Congress to continue supporting initiatives to improve the treatment and outcomes for children with cancer.

"I came to Capitol Hill today because I do not want any other family to suffer like our family has suffered with the loss of Rachel," said Crossett. "Her siblings and her father and I live with her death every day, and especially this year when she would have graduated from high school and be moving on toward college."
"We need to put more money into researching new cures and to implement palliative care programs for all children," she continued. "I work with DC Candlelighters to help families whose children currently have cancer, and I can see there are no new cures for these families, even 10 years after Rachel's death."
So Crossett participated in Tuesday's second annual Childhood Cancer Action Day event in Washington, D.C. It was coordinated by the Alliance for Childhood Cancer to try to advance legislation to benefit the 13,500 children diagnosed with cancer each year. Families with deep, personal connections to this disease came from 31 states to ask their congressional representatives to co-sponsor the following acts:
H.R. 460, Patients Access to Treatments Act: Would require insurers to charge no more than what they currently charge for non-specialty, tier brand drugs. For example, if an insurer is currently charging $30 for non-specialty tier brand drugs, and 50 percent of the price of a specialty drug (i.e., for a $7,000 drug like Gleevec, $3,500 patient out-of-pocket), HR 460 would require insurers to charge no more than $30 for specialty drugs.

Caroline Pryce Walker Conquer Childhood Cancer Reauthorization Act: Developed by Sen. Jack Reed (D-RI) and Rep. Chris Van Hollen (D-MD) to expand childhood-cancer research, improve efforts to identify and track childhood-cancer incidences, and identify opportunities to expand the development and research of therapeutics necessary to treat children with cancer.

H.R. 2058, Childhood Cancer Survivors' Quality of Life Act: Introduced by Rep. Jackie Speier (D-CA), it would provide resources for research and survivorship programs to improve the quality of life for all childhood cancer survivors. It would also increase access to the long-term, comprehensive, health-care services they need and enhance understanding of the late effects of their childhood diseases and cancer treatments.
"Each of these pieces of legislation has the power to make a difference in the lives of the 40,000 children treated for cancer each year," said Crossett. "That's why we're here — to make sure Congress does everything in its power to help kids who are fighting cancer each and every day."