Photo Gallery
Scout Project Enhances UCM Building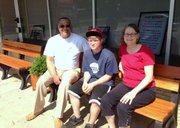 Click Photo for Flash
Mount Vernon — Life Scout Matthew Hargrove conducted a work day on Saturday, June 1, to complete his Eagle Scout Service Project at the main office location of United Community Ministries at 7511 Fordson Road in Alexandria.
A junior at Accotink Academy and West Potomac High School, Hargrove is a member of Scout Troop 654 at St. Luke's Episcopal Church. His Eagle Scout Service Project to benefit UCM comprised removing and replacing benches at the front entrance of the building, where hundreds of residents visit each weekday for basic needs assessments and counseling. UCM's client-choice Food Pantry is located at this site.
Hargrove worked with Marcos Castillo, UCM community outreach and volunteer coordinator, to decide on the benches project from UCM's list of needed improvements. The Eagle Scout Service Project is the culmination of the candidate's leadership training and must require significant effort on his part.
Hargrove raised more than $500 from family and friends to cover the expenses of the materials, tools, and other supplies. A local nursery that he approached donated the boxwood bushes. The "sweat equity" was supplied by him and the team of Scouts and friends who he recruited for the project work day that took place in 90-plus degree weather.