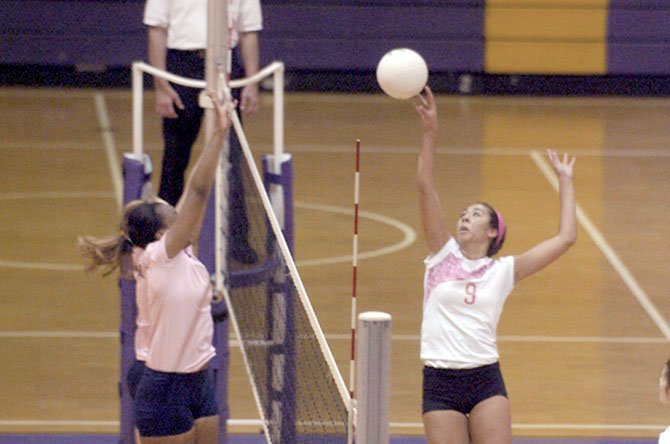 Kyra Rodi was a four-year varsity player for the Lake Braddock volleyball team. A versatile athlete, Rodi played multiple positions during her career, staring as an outside hitter during her freshman season before moving to middle blocker and eventually settling on a combination of setter and opposite hitter.
Rodi helped lead Lake Braddock to back-to-back appearances in the Patriot District championship match. The Bruins won the district title in 2010 and finished runner-up in 2011. Former Lake Braddock volleyball coach Mike Clark said there's more to Rodi than her talent.
"Everybody wants to talk to me about how great of a volleyball player [Rodi] is," Clark said prior to the 2011 season. "I don't care. She's, like, the best person I've ever been around. I've learned so much from just being around her. She always takes the lead in things [and] she wants to learn. Even though she's the best player out here, she wants to learn more than anybody else does."
Rodi, who stands 6-foot-2, finished her Lake Braddock career as a three-time first-team all-Patriot District selection, and a three-time all-Northern Region performer, including first-team honors as a sophomore and a junior. Rodi will attend Hillsdale College, a Division II school in Michigan, where she will play volleyball in the fall. Rodi said she will be used primarily as a setter. She plans to study biology, with a focus on molecular/cellular bio, and minor in French.
Rodi took part in a Q and A with The Connection via email.
Connection: What made Hillsdale the right fit for you?
Rodi: "It's cool how many reasons I could list here. First of all, Hillsdale is an excellent academic school, which is one of the most important things about getting a college education. I knew for a while that I wanted to go to a small school, because I love the idea of being close with not only my classmates but my professors, as well. The volleyball program there is also outstanding, not only in terms of how they finish in the NCAAs (Sweet Sixteen this year with seven freshmen, Final Four the year before), but how they run the program and the values that they put the emphasis on --- hard work, team, sportsmanship, dedication --- all those things that I try to be when I practice and play. And it's funny --- being on the campus and with the team, the little things there showed me how perfect of a fit is for me, from the players to country music, and it just felt so right and natural."
Connection: Any word on playing time as a freshman?
Rodi: "As a freshman, I don't expect to get playing time right off the bat, as I will be learning to set such a fast offense, but hopefully through the year I will see some court time. It all depends though on how I progress as a setter."
Connection: Did you receive a scholarship? If so, what kind? Was it a full or partial?
Rodi: "I did receive a full ride, and it's a combination of academic money (I am a National Merit Scholar Finalist), athletic money, and an outside endowed scholarship. Hillsdale has a wonderful number of scholarships for all different interests and activities."
Connection: What is your favorite memory of playing volleyball at Lake Braddock?
Rodi: "Apart from all the fun times and jokes I've had with Lake Braddock volleyball, a couple of things stand out especially for me. Freshman year, we played Annandale High School in the district quarterfinals, and it was a big game for us, as we had lost to them the week before. It was going into that game that Coach Mike gave us a pep talk, and he said something like, 'this will be a game you won't forget,' and even though we've grown so much, that's one of the games that I'll remember for a while.
"Another memory is the run we went on at the end of my sophomore year, and winning districts as the fifth seed, surpassing everyone's expectations as the underdogs. Junior year, I have two that really stand out. First of all, we had four returning girls, and were told we would [stink], and then started off the year 16-0. That was really cool to prove everyone wrong again. My other favorite memory that year was the fourth game of the district finals --- coming back from a 17-9 deficit to win that set. Those were probably … the most intense, fun, and best 20 points I've ever played."
Connection: What are you most looking forward to about the transition from high school to college?
Rodi: "In terms of volleyball, I am so looking forward to the next level of the game --- the speed of the game at college is so much faster and the play so much sharper, it makes it so much more fun. In terms of being a college student, I can't wait for the freedom and independence I get, and I'm excited to be able to go to school with my best friends."
Connection: At what age did you start playing volleyball? Did you imagine you'd one day play it in college?
Rodi: "I started playing volleyball in seventh grade, so at the age of 12. When I was little, I imagined playing in college, but that wasn't the goal for a while. [The goal] was to love playing and become the best I could become. It's funny though, I remember telling multiple people that I would never in a million years become a setter, that's how bad I was at the beginning."