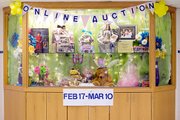 The Chesterbrook Elementary School's Online Auction offers tickets to see your favorite sports teams or the best of regional theater; fulfill New Year's resolutions—local dance, fitness, and yoga studios have donated classes; learn a new instrument or language; indulge in gourmet foods and gift baskets or enjoy a selection of toys for all ages, from the plush teddy bear for younger kids to the electronic devices for the older ones. Chesterbrook's auction has something for every age, taste and budget.
The Online Auction runs through March 10 at 10 p.m. All proceeds go to the Chesterbrook PTA to support the school by providing educational enrichment opportunities, from classroom purchases to technology upgrades.
Register for the online auction at www.biddingforgood.com/chesterbrook.
Chesterbrook Elementary School was established in 1906 in a one-room building. It is tucked away in a corner of McLean and is described by those who know it as the best-kept secret in Fairfax County. The school seeks now, as it did then, to provide a special learning environment made up of strong community support and talented, dedicated staff members.
More like this story