Kathryn O'Sullivan and Paul Awad of Reston picked up more awards for their Web series "Thurston" at the Fourth Annual Indie Soap Awards ceremony Feb. 19 in New York City.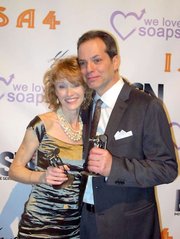 Sponsored by We Love Soaps and the Indie Series Network, the Indie Soap Awards champion independently scripted, serialized storytelling on the Web. O'Sullivan won for Best Costume Design and Awad won for Best Cinematography. Awad was also nominated for Best Director (Drama).
O'Sullivan leads the Theater Program at the Manassas Campus of Northern Virginia Community College. She is also co-executive producer, creator, writer and costume designer for "Thurston." Awad is co-executive producer, director, cinematographer and editor for the series.
Among the "Thurston" entourage attending the red carpet ceremony were three-time Emmy nominee Colleen Zenk, who plays Agnes Snead in the series, NOVA professors Lisa Nanni-Messegee and Todd Messegee who play Jo Maxwell and District Attorney Stewart, former NOVA student Garry Westcott who plays Marshal Robinson, and Garrett Brennan, a student at NOVA's Loudoun Campus who was nominated for Best Breakout Performance (All Shows) for his role as Owen Snead.
"Thurston" is a Western drama about residents of a remote mining town and their struggle for survival in the 1880s Kansas Ozarks. The series has won six awards and received numerous nominations. The series was recently named an Official Selection at the 2013 HollyWeb Web Series Festival and the 2013 LA Web Series Festival. Both festivals will be held this spring in Los Angeles.
For more information, go to www.thurston-series.com or contact O'Sullivan at kosullivan@nvcc.edu.