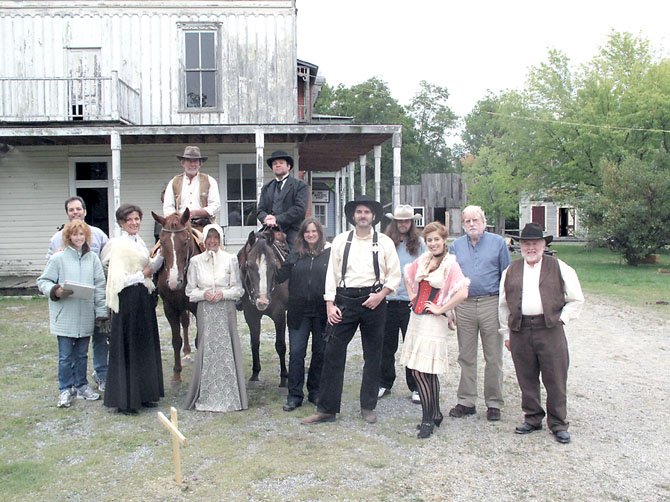 Reston — Awards for drama, directing and acting tend to bring to mind the Oscars and Emmys, Hollywood and Broadway, not the Internet and Reston. Nonetheless, the web series, "Thurston," created by Reston residents, husband and wife, Paul Awad and Kathryn O'Sullivan, has been nominated for the 3rd Annual Indie Soap Awards for Best Web Series in the drama category. Awad has been nominated for Best Director in the drama category and actress Catherine Frels, who plays Maggie Callaway, has been nominated for Best Actress in the drama category.
"Thurston" tells the story of the residents of a remote mining town in the Kansas Ozarks and their struggle for survival. O'Sullivan, a theater professor at the Manassas Campus of the Northern Virginia Community College, wrote the screenplay for the series; Awad, an instructor in video and film-making at The Art Institute of Washington, D.C., directs and films the series.
"We were thrilled to be nominated. We didn't know anyone could find us, so it was a bit of a surprise," said O'Sullivan.
The line between televised entertainment and online entertainment has been blurring in recent years. With the growing popularity of using smart phones and tablet computers for entertainment, the number of online, original shows, such as "Thurston," has increased. Plus, so many soaps and actors have left TV and gone to the web. Websites like blipTV.com and VBCTV.com function like online TV stations, airing new, original shows, including "Thurston." O'Sullivan and Awad said they have been very impressive by the quality of work on the web.
"Through doing this series we have discovered this community of people who are doing really high-end work, and they have millions of viewers all over the world. That is the most attractive thing about a web series. You can create content and immediately be available to audiences," said O'Sullivan.


THE IDEA for "Thurston" came about as a result of a television show. Awad said he and O'Sullivan were watching a TV program about the hey-day of Westerns and thought, "why don't we do a Western." Awad was also interested in the idea of a web series. Ironically, he was not too interested at first in watching shows over the Internet. However, both he and O'Sullivan were intrigued by the accessibility of web programming and by the quality of shows that are on the web.
Once Awad and O'Sullivan decided to go forward with a Western web series, their next challenge was finding a location that could pass for a western town of the late 1800s and that is in driving distance of Washington. After doing a bit of research O'Sullivan discovered Wytheville, Va., in the southern part of the state, about 5 1/2 hours from Washington. As recently as the early 1980s, Wytheville was a western theme park, complete with a dusty main street and faded clapboard buildings.
"It was quite the thing in its day. Johnny Cash and several other big country and western stars played there. They used to have staged gun fights and performances. The townsfolk were very excited to have us come down and shoot 'Thurston' there," said O'Sullivan.
During the first episode, the backstory for the town is shared in a brief exchange between Sheriff Nate Hart, played by Steven Quartell, and a mysterious stranger, played by Regen Wilson. The town's founder, Garrett Thurston, anticipated the coming of the railroad, established the town and attracted a significant number of people and businesses. As often was the case in the settling of the West, the railroad did not come through. The plague, however, did and a number of residents died. The town and its residents were all but forgotten.
"Everyone has a secret in Thurston," said O'Sullivan. "The first three episodes focus on Maggie Callaway, who is running from an abusive relationship. Next three episodes will focus on the sheriff. The story is told in these little arcs where secrets are revealed."
O'Sullivan and Awad used their extensive connections to cast actors in the series. Awad describes Frels, a Master of Fine Arts graduate student at George Washington University, as a nice TV/movie star, "very old school," he said.
Two of O'Sullivan's former theater students are cast in the series. Bob Martin, of Sterling, plays Garrett Thurston and dies within the first minute of episode one. "He was so great. Traveling all the way to Wytheville, only to die early in episode one," said O'Sullivan.
Garry Westcott, of Alexandria, another former student, plays U.S. Marshall Perry Robinson. Westcott, said O'Sullivan, "had a secret life in the '80s as a Clint Eastwood impersonator. It was great having someone so experienced with Westerns."
O'Sullivan even cast her father, James O'Sullivan, who also has a theater and writing background.
In addition, NVCC adjunct professors Lisa Nanni-Messegee and Todd Messegee serve as production manager and assistant director/set photographer, respectively, and one of O'Sullivan's current students, Nicholas Barry of Fairfax, is a production assistant.
"Our actors have been great. They are so excited to be in a Western. We are so lucky," said O'Sullivan.
During the first weekend in February, Awad, O'Sullivan and cast traveled to Bristow, Va., Spotsylvania County, Va. and Piscataway, Md. to film the next three episodes. O'Sullivan and Awad said they can generally get enough footage in one day of shooting to produce one episode. Each episode is about seven minutes in length. Such short episodes are fairly typical for web programs. Awad and O'Sullivan anticipate that the next three episodes will be available on the "Thurston" web site in late February.


ON FEB. 21, a large "Thurston" entourage will attend the Indie Soap Awards red carpet ceremony in New York City; Frels will be an awards presenter.
To watch the first three episodes of Thurston or to learn more about the series, see Thurston's website: www.thurston-series.com. To learn more about the Indie Soap Awards, see the website: www.welovesoaps.net.