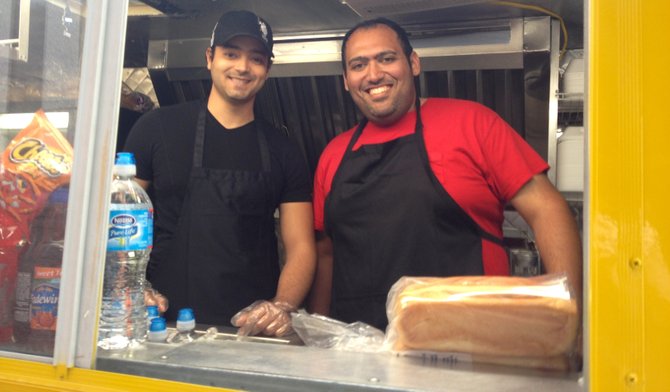 Every hour, food-truck vendor Amir Mohammed would have to shut down his propane tank, and get behind the wheel of Baba's Big Bite food truck to find a new parking space. Even though the street parking near the Rosslyn Metro station allowed for two-hour parking, the Arlington vending ordinance limited food trucks to one-hour parking. Now the Arlington County Board has closed the loophole, allowing food trucks the same two-hour parking as everybody else.
"Of course, I would prefer if we had even more time," said Mohammed during a recent lunch rush. "But I'm very happy to have two hours now."
The one-hour limitation dates back to 2008, when the vending ordinance was changed to allow food trucks to stop for five minutes at a time. Instead of forcing the vendor to wait for a customer to stop the truck, the new rules allowed the businesses to set up shop for an hour at a clip. Since that time, the food-truck revolution has been powered by social media and hungry foodies. Now food trucks will be able to enjoy the same two-hour parking as everyone else, as long as they are located within 1,200 feet of a Metro station.
"The businesses are serving an important function," said County Board member Chris Zimmerman. "They're also great opportunities for a lot of people to get into business."
IN THE COMING months, county officials will also be looking at broadening the reach of the food trucks. Currently, they are limited to 1,200 feet of a Metro station. That means that large parts of the county, including Shirlington, are off limits. But now that County Board members have given County Manager Barbara Donnellan greater flexibility to establish vending zones with no specific distance from a Metro station.
"Street vending has become a growing part of the retail scene in Arlington," said Arlington County Board Chairman Walter Tejada. "These changes, by giving vendors flexibility and ensuring consistent enforcement, provide balance and clarity for all of Arlington's businesses that serve customers."
Many brick-and-motor businesses take a jaundiced view of food trucks. Some restaurant owners say they have invested in the business and pay a slew of county taxes that mobile vendors don't have to pay. They say they have a connection to the community that a business on wheels will never have. That means that businesses across the county may push back if county officials seek to broaden vending zones.
"We have members who aren't fond of them to begin with, one hour or two," said Rich Doud, president of the Arlington Chamber of Commerce. "These people don't have to pay rent or real-estate taxes, so it's not a very level playing field."
AT BABA'S BIG BITE, Mohammad says he understands their concerns. He and his brother owned a restaurant in southwest D.C. called the American Cafe for nine years. When they decided to get out of the restaurant business, they considered catering. But instead, inspired by the growing popularity of food trucks, they decided to instead invest in a bright yellow vehicle and prowl the streets of Rosslyn.
"Coming from the restaurant side of the business, I know where there're coming from — and I agree," he said. "Maybe there's a way to create a way to create some kind of charge or fee that might level the playing field a bit. I'd be willing to pay it."