Though not exactly suffering from a surplus, it's clear from their new lineup that the staff behind the George Mason University Center for the Arts is driving forward, sequester or not.
Photo Gallery
What to See, When to See It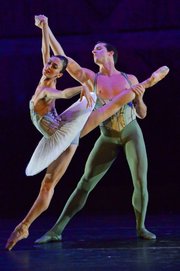 Click Photo for Flash
On April 11, Director of Artistic Programming Tom Reynolds introduces the 2013-2014 "Great Performances at Mason" season program for the first time at a luncheon in the Fairfax campus main performance hall's reception area. The wide array of talent includes orchestras, choirs, dance ensembles and acting troupes from all over the world, once again a testament to the center's commitment to artistic diversity.
REYNOLDS WAS INTRODUCED by William F. Reeder, dean of the College of Visual and Performing Arts at George Mason. Reeder also used his time at the podium to address his college's lofty goals of growth and community involvement, motivated by rapid expansion in the arts student population and a continued desire to be a cultural hub in the Fairfax region.
Reynolds elaborated on Reeder's outline in an interview the following day. "We're not in the mode of trying to make everyone part of George Mason," he said. "But what we do understand is we cannot be as successful as we want to be unless we embrace the local and regional arts organizations as well. [They should] continue to have their own identity, but we assist them."
To that end, Reynolds also announced a partnership with the Fairfax Symphony whereby the George Mason hall will become the group's home stage. "We want to be a part of assisting this community," Reynolds continued in the interview. "That's the thought process. Making sure that we're as inclusive as we can be. We're pleased to have the Fairfax Symphony using our hall."
ORCHESTRAL MUSIC—including performances from the American Festival Pops Orchestra, Irish Chamber Orchestra (featuring Sir James Galway), and Haifa Symphony Orchestra—is just a portion of the more-than-50 acts filling out the new program. The Virginia Opera series comprises "Carmen," Mozart's "The Magic Flute," "Falstaff" and "Ariadne auf Naxos."
Live theater lovers should be sated by "Twelfth Night" by Aquila Theater, "The Graduate" from L.A. Theater Works and "Rosencrantz and Guildenstern are Dead" by The Acting Company. Jazz, blues, folk and even Celtic music dot the instrumental segment of the program, but what truly leaps from the season brochure is dance.
Among offerings from the genre (which still owns no dedicated space at the university) are The Lar Lubovitch Dance Company, Parsons Dance, Mark Morris Dance Group, the Shanghai Ballet... and the highly acclaimed Joffrey Ballet. "The dance season is something I'm particularly proud of," said Reynolds in the interview.
"These are truly international artists, really the best," he continued. "We've done a good job of representing all the various kinds of dance out there. That might be a surprise, that we can put together that strong a season in one year."
A SIGNIFICANT DIFFERENCE from previous seasons is a decrease in the sheer number of performances. Similar acts to shows that may have run two or three nights in the past will only run one to two nights. For a more family- and youth-friendly incentive, another change involves offering half-price tickets for children and students up through 12th grade on all shows.
Reynolds has mixed up the programming from past years as well, citing the need to keep his lineups interesting. One under-the-radar act is Max Raabe & Palast Orchester, a German big band evoking 1920s Berlin. According to Reynolds, the group is "so different from anything we've ever done."
"It will just be a delightful evening," he continued. "It's not something people are accustomed to, but I know if they come they'll have a great time. I want to find things that are different, that they haven't seen before. It keeps us fresh and keeps the community informed about what's going on in the art world.
"I say it every year," Reynolds concluded, "but I'm really proud of the diversity [this program] has. Short of having superstars, it can appeal to a lot of different people." Which is a great way to assist a community.