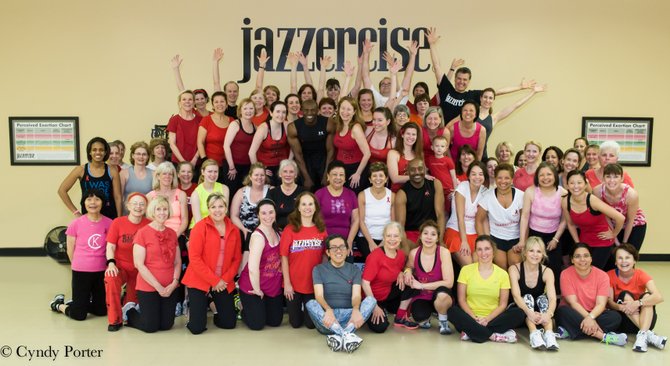 Over 100 dancers participated in Jazzercise of McLean and Tysons Corner's Dance for a Cure fundraiser, which raised $12,525 for the Leukemia & Lymphoma Society by staging a benefit dance-fitness marathon on Saturday, April 20, 2013.  The event featured three unique hours of aerobic dancing and strength training, including a Ballet Body class, a Jazzercise "Pop Icons" class, and a hip-hop, street jam class taught by professional choreographer Tim Roberts. In addition to donations from dance participants and students at Jazzercise of McLean and Tysons Corner, local businesses donated over $4,000 in merchandise, gift certificates, gift baskets and services for the event's silent auction. Dance for a Cure was held at Jazzercise of McLean and Tysons Corner in McLean and hosted by center owner, Nancy Griswold. Seven of the center's other instructors and five class managers also donated their time. Jazzercise of McLean and Tysons Corner has a long history of supporting the community and hosting and participating in fundraisers; however, this was their first time partnering with the Leukemia & Lymphoma Society.
Griswold, an instructor for 22 years and center owner for 11 years said, "Looking around the packed room of dancers, you could feel the incredible joy and spirit of everyone coming together as a community to show their support for this important cause."
Judi Sheppard Missett, who turned her love of jazz dance into a worldwide dance exercise phenomenon, founded the Jazzercise dance fitness program in 1969. She has advanced the business opportunities of women and men in the fitness industry by growing her program into an international franchise business that, today, hosts a network of 7,500 instructors teaching more than 32,000 classes weekly in 32 countries. The workout program, which offers a fusion of jazz dance, resistance training, Pilates, yoga and kickboxing movements, has positively affected millions of people worldwide. Jazzercise of McLean and Tysons Corner is located at 1524 Springhill Road in McLean, and offers 36 classes per week. For more information, contact Nancy Griswold at mcleanjazzercise@gmail.com, or visit https://www.facebook.com/jazzercisemcleantysons. For class times, go to http://jcls.jazzercise.com/facility/jazzercise-mclean-fitness-center.