Herndon — The Town of Herndon opened up its Public Works Maintenance Complex and its large vehicles May 2 and 3 for the annual Big Truck Days. The event gave families and children a chance to explore some of the town's heavy maintenance equipment.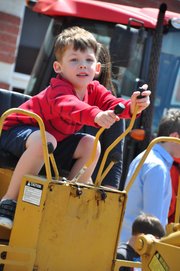 "My kids are always the ones on the playgrounds that go from piece to piece just crawling around and exploring every inch of the place, so I figured this would be an ideal environment for them," said Rachel Hinkel of Herndon, who brought her son and daughter. "We've been here for two hours so far, and they've been on almost every single piece of equipment, so I'd say it's been a success."
Dump trucks, loaders, bulldozers and more were all open and on display during the two days, and children also received a plastic helmet and other souvenirs when they entered.
Susan Bennett of Herndon said her daughter Samantha, 4, doesn't have the typical interests of a girl her age, so the event was perfect for them.
"She only has a few dolls and they don't get much attention, but she's always been interested in the same toys her brother, who's four years older had, the Tonka trucks and models of other construction equipment," she said. "And as soon as we got here, she ran into line for one of the dump trucks, jumped into the driver's seat and seemed right at home."
Several children took the time to pose on the truck with a snow plow attachment painted with the colors and logo of the Herndon High School Hornets. When children got tired of waiting in line to climb on each piece of equipment, they could rest on one of the picnic tables set up, or in the scoop of one of the bulldozers.
"My son said he wanted to sit down for a little bit, but then he started walking away from the tables, and into the front of one of the bulldozers," said Sam Kelsey of Herndon. "I guess for a big piece of metal that's used to move dirt and stuff around, it looked pretty comfortable to him."
Billy Schemp, 5, was able to climb behind the wheel of five different machines throughout the day Friday, but wasn't able to get into the one he really wanted.
"As we came up, I could see the truck with the big crane all the way from the parking lot, and I really wanted to try that one out," he said. "But that was the only one that wasn't open."