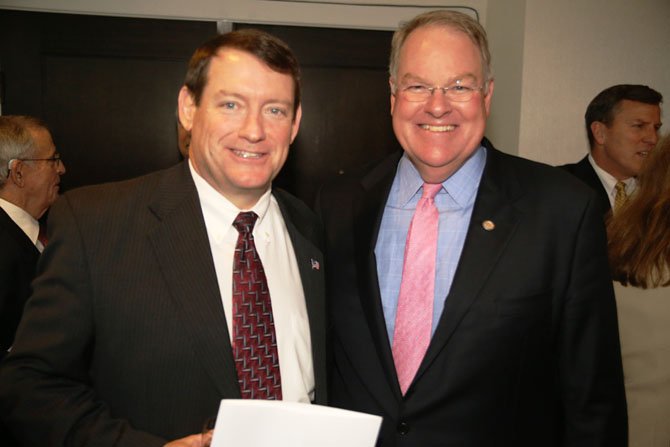 More than 500 supporters of Northern Virginia Family Service gathered in Vienna on Friday, April 26, to honor George Lizama and Earle and June Williams at the NVFS "Road to Independence Gala." The event, which is NVFS' largest fundraiser of the year, featured an emotional appeal for donations, as well as live and silent auctions.
Guests were reminded of the very different journeys that NVFS clients take on their Road to Independence. Mary, who stayed at the organization's temporary shelter, SERVE, also went through its workforce development program, Training Futures.
"Most of us here lead privileged lives. You can and should make a difference in Northern Virginia." —Earle Williams
Overcoming a history of family physical abuse, homelessness, and a debilitating injury that eventually led to drug addiction, Mary is not just surviving but thriving. She works in a doctor's office and is an example of how a brief investment to help someone pays dividends for a lifetime.
George Lizama, this year's community champion, credited NVFS for helping the innocent, the humble poor, and those "who can't catch a break." The local business leader known for his marketing accomplishments was instrumental in launching NVFS' Training Futures program. He summarized Mary's experience and that of the 30,000 clients that NVFS touches each year: "Through self-help comes self-esteem, self-worth and finally, dignity."
Earle Williams, retired BDM International president and CEO, was honored with his wife, June, as "Legends of Northern Virginia." "Most of us here lead privileged lives. You can and should make a difference in Northern Virginia," Williams said.
This year's event broke previous records for sponsorship participation. Attendees publicly affirmed their support for NVFS through pledges of $100 to $5,000. Funds raised from the event will support NVFS programs, from head start and emergency shelter to gang intervention and job training, that help the most vulnerable community members chart their "road to independence."
Each year, NVFS helps nearly 30,000 people find safe and stable housing and provides children and youth services, affordable health care, workforce development programs and emergency services through a variety of community-funded programs and initiatives. NVFS has been recognized nationally for its effectiveness in creating sustained financial and social independence for its clients.
For more information about NVFS and its many community-funded programs and initiatives, go to www.nvfs.org.