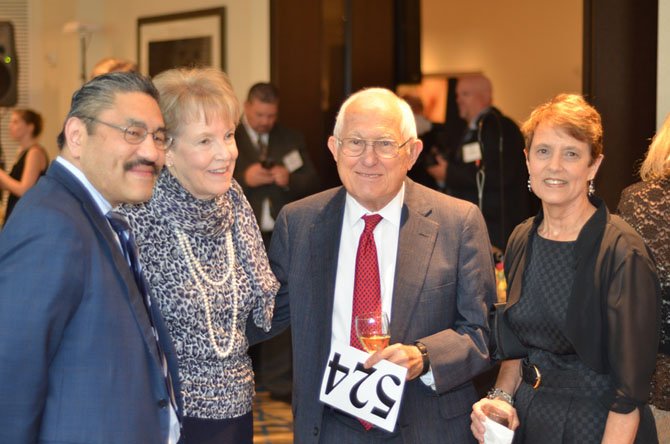 The evening of Friday May 9 at Hilton McLean Tysons Corner, the nonprofit Northern Virginia Family Service (NVFS) held their 16th Annual Road to Independence Gala. The festive event gave community and business leaders an opportunity to celebrate the impact of NVFS on families and children in need. It also recognized donors and supporters dedicated to giving back to the community in which they live making NVFS services possible. "Northern Virginia Family Services is a premier organization and one of our partners in providing aid in the human services field," said Chairman of the Fairfax County Board of Supervisors Sharon Bulova.
NVFS has been serving the Northern Virginia since 1924 when volunteers gathered to provide coal to poor families during winter. Since then the nonprofit community service organization has been dedicated to helping individuals and families find new paths to self-reliance and brighter futures. The mission of the organization is to empower individuals and families to improve their quality of life and to promote community cooperation and support in responding to family needs. "They do some amazing work in Fairfax County and beyond," said John Toups, who along with his wife Nina sponsored the evening event.
THIS YEAR Bill Hoover, CEO of American Systems, was gala chair. The gala featured an array of silent and live auction items, and personal testimonies by select clients whose lives have been impacted by NVFS. It also recognized the organization's Community Champion and the Legends of Northern Virginia for significant contributions to the lives of children and families in the community. "This is going to be our biggest tournout for any gala we have ever had," said Victoria Marcos, a Development Assistant at NVFS. Approximately 625 guests were seated at the dinner event.
Attending as this year's Legend of Northern Virginia was Sidney O. Dewberry. Dewberry is a founding member of the George Mason University Urban Systems Engineering Institute, now known as the Civil Engineering Institute, which supports the university's specialized programs in advanced urban systems planning and design. He currently serves as chairman-emeritus of the institute and continues to guide the development of this educational program. Dewberry co-founded the design firm Dewberry in 1956 and is former chairman of the Arlington County Planning Commission and former chairman of the Fairfax County Engineering Standards Review Committee. Dewberry was honored as a Distinguished Member of the American Society of Civil Engineers in 2011.
The Community Champion Award is a recognition given each year at the Gala to individuals who have made immeasurable contributions to children and families in Northern Virginia. The 2014 Community Champion Award was given to Lauren E. Peterson who has been a lifetime resident of Northern Virginia. Peterson was a Member of the Northern Virginia Family Service Board of Directors for 12 years and found that their results, caring, programs and fiscal responsibility made it a time she is very proud of.
DIGNITARIES who attended the event included Governor and Mrs. Terry McAuliffe; Fairfax County Board of Supervisors members Catherine Hudgins (D-Hunter Mill District), Linda Smyth (D-Providence), Pat Herrity (R-Springfield); Chairman of the Fairfax County Board of Supervisors Sharon Bulova; Del. Vivian Watts (D-39); Virginia Secretary of Health and Human Resources Bill Hazel; and U.S. Rep. Gerry Connolly (D-11). Sponsors for the gala event included Clark Construction, American Systems, Peterson Family Foundation, Booz Allen Hamilton, Dewberry, Boeing, Northrop Grumman, Washington Gas, and Navy Federal Credit Union. "They always have a good turnout here, it is a great program," said Supervisor Hudgins.