Friday, May 3, marked the first Friday Night Live concert of the season for the Town of Herndon. This popular concert series began with a performance by the band Gonzo's Nose, a Virginia-based band that has been performing since 1996.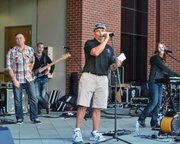 This year is the 19th season of Friday Night Live. Like all previous shows, this performance was held on the Town Green between the Herndon Fortnightly Library and the Herndon Municipal Center. The annual series brings many cover bands to Herndon to perform with no tickets or reservations required.
Doug Downer, founder of Herndon's Friday Night Live, said: "I had been to a similar event in Norfolk. When I saw the plans for the Herndon Municipal Center, I pitched the event to Herndon Chamber of Commerce, and then to the Town of Herndon. They passed it, but thought it [Friday Night Live] would fail."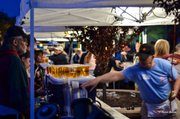 Friday Night Live is one the most popular outdoor concert series in the D.C. area. The concert has been ranked as a "Must See" for Fairfax County, and it is recognized by the Virginia Tourism Corporation. Downer attributes much of the success to the volunteers.
"It is hard work but it is a lot of fun. The people back here make volunteering worthwhile," said volunteer Scott Jones.
"It [Friday Night Live] is a beautiful thing," said volunteer Allen Boichot. "I live in Chantilly. May is a huge month because everyone has not yet left for vacations. We give people a chance to relax and take a break. It is not work, it is unbelievably fun."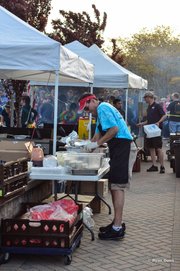 Herndon Town Councilmember Grace Wolf was volunteering that evening at a drink concession stand. "All tips we take go to the all night Herndon High School graduation party," said Wolf.
"We have a tremendous group of long term volunteers," said Downer. Beginning at 6:30 p.m., Gonzo's Nose played pop music songs from musicians ranging from Michael Jackson to The B-52's and Poison. At 7:50 p.m. when the band took a short break Downer took the microphone to thank the concert sponsors. "Without our corporate sponsors we could not put on this event."
Downer first met his future wife while attending a Friday Night Live concert. The band performing that night was Gonzo's Nose, and song they were playing was "Hit Me With Your Best Shot."
While the bands perform on stage, attendees and audience can dine on food they bring to the event or purchase meals at the vending booths. No alcoholic beverages may be brought into the event, and no pets are allowed.
The next show on May 10 will feature bands Blue Label and South Bay. Friday Night Live is a completely volunteer run event and new volunteers are always welcome.
There won't be a Friday Night Live on Friday, May 31, because of the Herndon Festival. For more information about Friday Night Live or the scheduled entertainment, check out the website at www.Herndonrocks.com.