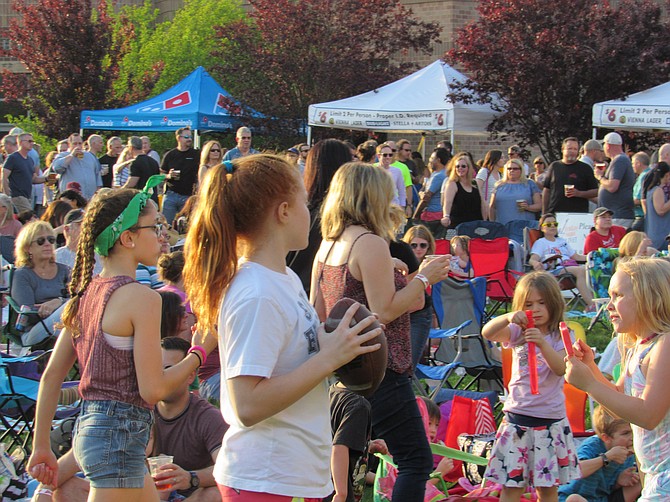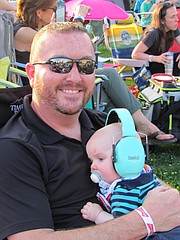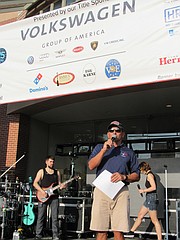 Voted the D.C. area's Best Free Outdoor Concert Series, Friday Night Live! (FNL) opened on the Town Green behind the municipal building at 777 Lynn Street, Herndon for its 25th Anniversary Season on May 3, 2019. Produced by the Herndon Chamber of Commerce and presented by Title Sponsor Volkswagen Group of America, opening night featured Garden State Radio live performing four decades of music, the 80s through today.
Doug Downer, Founder and Chairman of Friday Night Live! recalled the first year of signature music event in the town.
"The first time we did the concert in 1995, we had a short season, six to seven events. It was going so well; we added several weeks onto the end," he said.

Fast forward to 2019. Downer announced to the packed crowd that they have a great season planned and will kick off the 25th Anniversary of Friday Night Live! on Friday, June 28 with a special performance by Love Seed Mama Jump, a six-piece rock band from Dewey Beach, Del. Downer said proceeds from the selling of beer, water and wine that evening would benefit the Chamber of Commerce and a portion of tip money from its sales will go to Herndon High School's after-prom and all night alcohol-free graduation parties.
Friday Night Live! would not be possible without the support of hundreds of volunteers who help make it a successful, fun and safe event in the town, Downer said. Neither could Friday Night Live! be possible without all its sponsors, including Platinum Sponsor United Bank; Corporate Sponsors Herndon Chamber of Commerce, Town of Herndon, HRI Associates, Virginia Eagle, and new this year, ISI Enterprises LLC; and Gold, Silver and Bronze sponsors.
Asked why they came to Friday Night Live! that evening, individuals shared memories, spoke on how it is a family event, and how the community is in it together.
Herndon Mayor Lisa Merkel, said, "The first night of Friday Night Live is always one of my favorite nights of the year. Seeing all the neighbors, we haven't seen all winter. It's like "Happy new year, Herndon."

Former Herndon Mayor Steve DeBenedittis shared one of the many reasons he came to Friday Night Live! Opening Night 2019, "It's the site of my third date with my then girlfriend and now lovely awesome wife, Rosemary," he said.
Steve Gibson of Herndon sat with his five-month-old son Conner. Gibson said he came because "families love it. Great music and tons of friends."
Jeanne A. Travis, President of ISI Enterprises of Herndon, said she came to Friday Night Live! "to support our community."
Pam Smith, CEO Next Gen Marketing LLC of Reston and member of Greater Reston Chamber of Commerce said, "Teamwork makes for dreamwork. We are all in this together."
For information about the weekly outdoor concert series, visit the event website, www.herndonrocks.com.