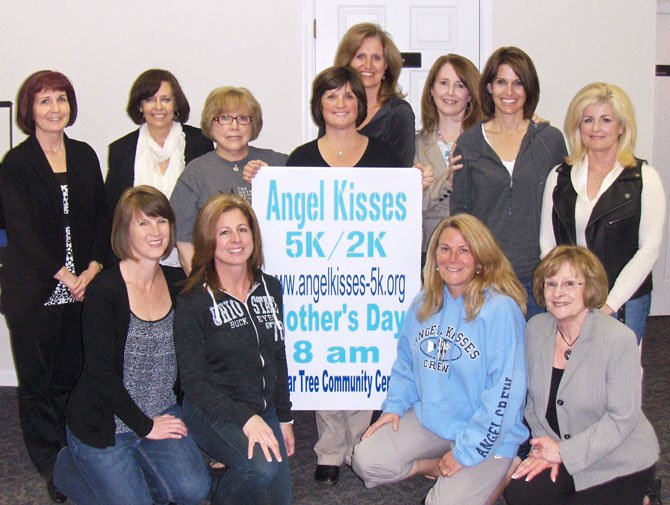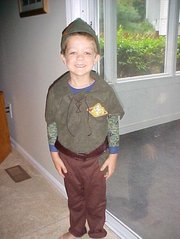 Race Details
The Angel Kisses race is this Sunday, May 12. The 5K starts at 8 a.m., and the 2K, 8:10 a.m., rain or shine. They begin and end at the Poplar Tree Swim and Racquet Club, 13516 Point Pleasant Drive in Chantilly. The race is USATF-certified; Pacers Events will officiate and a special tag attached to the participants' bibs will record the results.
Online registration is 5K, $30; 2K, $20, through May 9. Afterward, it's $35 and $25. Walk-in registration and packet pickup are Friday, May 10, from 6-8 p.m.; Saturday, May 11, from 10 a.m.-2 p.m., and race day, from 6:30-7:30 a.m., at the Poplar Tree Swim and Racquet Club. For more information and to register, go to www.AngelKisses-5....
Organizations receiving grants from the Jeffrey Virostek Memorial Fund include D.C. Candlelighters, which provides emotional, educational and financial support to local families with children fighting cancer; HopeCam, which keeps homebound and hospitalized youth connected to school and friends; and Inova Health System's nonprofit program for pediatric cancer patients and their families.
Tax-deductible donations may be made at www.angelkisses-5..., or send checks payable to the Community Foundation of Northern Virginia, 2940 Hunter Mill Road, Suite 201, Oakton, VA 22124. Write Jeffrey Virostek Fund on the memo line.
Jeffrey Virostek was 2 when he was diagnosed with acute myelogenous leukemia (AML). He went into remission after aggressive treatment and a bone-marrow transplant; and for nine months, he was able to just be a little boy again, playing with friends and enjoying his family.
But the disease returned around his 4th birthday and he died in September 2003. Yet nearly a decade later, he's remembered not only by those who loved him, but by an entire Chantilly community that turns out each year for a memorial race in his honor.
It's a Mother's Day tradition in Poplar Tree Estates and a tribute to Jeffrey because it raises money to help other children fighting cancer. This year's 10th annual Angel Kisses 5K run and 2K fun run/walk is Sunday, May 12.
"People want to come and run it on Mother's Day and they look forward to it," said Jeffrey's grandmother, Janet Ball of Oak Hill. "And I'm profoundly grateful that the same group of women has put it on for 10 years."
Event proceeds go to the Jeffrey Virostek Memorial Fund and, from there, to several nonprofit organizations that help families dealing with childhood cancer. Since Angel Kisses began, Jeffrey's parents, Tasha and Stephen, have contributed more than $190,000 in grants through the fund.
The 12-woman race committee met last week to discuss final details before the event. "We originally thought it was a one-time thing," said Mary Sawyer. "We just wanted to honor Jeffrey's memory. But then people asked if we were doing it the next year — and now, I can't imagine not doing it. It takes a lot of work, but it seems to feed a need people have to come together and be supportive. This is a person-to-person event."
Last year's Angel Kisses attracted 824 participants — 487 in the 5K and 337 in the 2K. And the idea for it came from Virostek family friend and neighbor, Tracy Rickard.
Remembering how Jeffrey loved it when she played Tickle Monster with him and he ran back and forth, Rickard said, "I thought we could hold a race in his name. There are lots of runners in our neighborhood, and I figured it would be something kids could be involved in, too."
Jeffrey's mother named the event. "I was looking for a name for his memorial fund," she said. "And when he passed away, I looked down at him and thought, 'He's a little angel sending us kisses.'"
Initially, said Rickard, "We knew nothing about putting a race together, and now it's like a well-oiled machine. And each year, we see the impact we're making and how what we do has touched someone."
"And it amazes me how many people apply for the financial assistance," added Ball. "Whether for gas, food, mortgage or utility payments [while paying their children's huge medical bills], they need the money."
Like many on the race committee, Terry Durst joined it at Rickard's urging. "Our neighborhood is a community of people who've known each other 10 years or more and take care of each other," said Durst. "Also, I work at Inova Fair Oaks Hospital as a CAT scan specialist, so I know a lot of families are struggling; I see the need."
Karen Cragg's pleased that the race is now ingrained in the community fabric. While watching her son play CYA Little League baseball recently, she overheard two moms who don't live in Poplar Tree discuss Angel Kisses.
"One told the other how she and her son run it every year and that her son said it's 'really cool,'" said Cragg. "And I thought it's so neat that it's spread to people in other communities as their tradition, too."
"So many people are touched by cancer in their lives and, when Jeffrey got sick, we wanted to help," added Paula Searle. "There are many charities, but this one has a direct impact. You see how the money's raised and where it goes, so it comes full circle, and it's a nice way to help others."
Joleeta Bishop is in charge of the food for race day. Caribou Coffee and Starbuck's are donating coffee; Utz, potato chips; Bagel Buddies, bagels; Panera, pastries; Amphora, cookies; and Giant Foods, apples. First Watch in Greenbriar is contributing muffins, bananas and gift certificates, and Chick-Fil-A is providing lunch and coupons.
"It's so much fun for me," said Bishop. "I feel like I'm having a party and I don't have to cook. I've seen families grow up here and return to this event every year."
Gretchen Mason likes being on the race committee because "We're all different ages, so we get to meet and work with people we don't always see. And everyone has their own, special talents and does their part. We also get raffle items and some companies give us gift certificates — even in tough, economic times. It really amazes me that there are so many generous businesses in the community that give back, and it feels good to see it."
Colleen Thompson enjoys spending time with the other women. "I wouldn't want to spend Mother's Day any other way," she said. Teresa Snedeker takes part to keep Jeffrey's memory alive.
"To me, the thought of losing a child is just devastating," she said. "He was a special child and made a huge impact on this community. And I believe in the cause. With other charities, so much money goes to research. But people sometimes forget that, while you're going through cancer treatment with your child, you need money to survive on a daily basis."
Snedeker said it's easy participating in Angel Kisses because it's so successful. "The community supports us," she said. "Sponsors return each year and these women are motivated to keep it going."
Page Imperial said her 8-year-old nephew, Timmy Tyrrell, knew about the group. So when his best friend, a 6-year-old girl, got brain cancer, he wanted to help. Because of her medical bills, her dad couldn't afford to buy gas. So, said Imperial, "Timmy started raising money and donated it to Angel Kisses."
Snedeker said her children also did their part. In the race's first year, she said, "My daughters took the money they'd gotten for Christmas and birthdays and contributed it to Angel Kisses." And Mason noted that all their husbands and children participate in the event in some way.
Although, added Durst, "Without the sponsors, we couldn't do this." And Rickard's pleased that, since so many youth also help, "We've passed this on to the next generation."
Virostek said that, when Rickard first approached her with the idea, "I was still raw after Jeffrey's death and my biggest fear was that he'd be forgotten. He was a special and wise boy, well beyond his 4 years, and had a way with people."
So the fact that this event is now a popular tradition means a great deal to her. "I know the journey many of these families go through, so I'm glad we're able to help them through Angel Kisses," she said. "It's been a pleasure working with these ladies all these years. Through their efforts, Jeffrey's not been forgotten and we're able to help others."