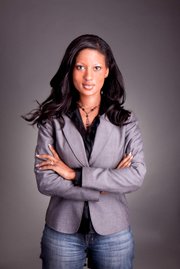 Maimah Karmo, who founded the nonprofit Tigerlily Foundation in Reston that serves women and girls nationally and globally, is one of four pioneering female leaders who will receive recognition for the dynamic work she is doing in her community. Karmo will receive the Sisterhood Agenda Global Partner Award, now in its third year, as presented by the Sisterhood Agenda at the SHE: Sisters Healthy & Empowered event in celebration of National Women's Health Week on Friday, May 17, in St. John, U.S. Virgin Islands.
Karmo founded Tigerlily Foundation after she was diagnosed with breast cancer at 32 years old; she is committed to educating young women around the world about breast cancer and empowering them to be their own best advocates.
Karmo chose the name Tigerlily for her organization because of the seasonal aspects through which both flowers and women experiencing breast cancer progress. Karmo envisioned a woman undergoing treatment like a flower, which loses its petals then blossoms and grows again. Karmo believes in the transforming process the name embodies to help women be transformed during and after breast cancer.