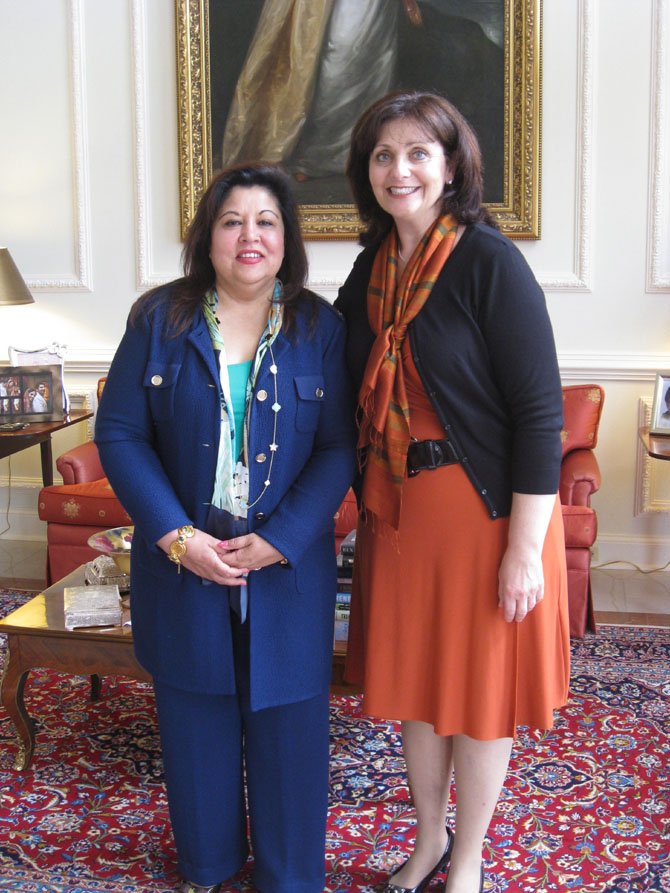 Photo Gallery
Embracing Breast Cancer Awareness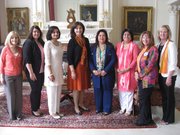 Click Photo for Flash
In celebration of Mother's Day, and to raise awareness about breast health in the global community, an international cadre of 60 women, in addition to members of Brem Foundation to Defeat Breast Cancer, gathered at the Alexandria home of Shaista Mahmood on Wednesday, May 8 for "Coffee & Conversation with Dr. Rachel Brem."
Brem, a world-renowned radiologist and director of the Breast Imaging and Interventional Center at George Washington University Medical Center, is dedicated to finding breast cancer early when it is a curable disease. The Washington Metropolitan area has the highest death rate from breast cancer nationwide.
Mahmood welcomed family and friends including the wives of ambassadors to Ghana, Monaco, Pakistan, Sudan, and Yemen. "It's wonderful to have the capacity to bring people together. The women to women connection will bring peace and more understanding. Dr. Brem is a fantastic woman and is doing so much work for the lives of women here and around the world. It's remarkable," said Mahmood.
Brem said her conversations with guests revealed that many women are met by the challenges of cultural differences and being in a country that may not be their mother country. "Breast cancer knows no boundaries. It is an evil that impacts all of our lives," said Brem. She advised women to be sure they have their yearly mammogram read by a radiologist who reads breast images 90 percent of the time, not knees and elbows, and noted that when cancer is only in the breast, 95 percent of early stage cancer is curable. "Nobody knows you like you know you. If you think something is wrong, you insist that you have additional screening. If the doctor doesn't agree, you go to another doctor. You are your own best advocate," she said.
Zunaira Kahn, whose husband is the DC Deputy Chief of Mission of Pakistan, said, "Modesty, unawareness, and the lack of opportunities to know this information is a big issue for us. We would go and seek help if needed if we were aware. For us to know, even if something is wrong, and then educate our fellow women, that would be a big step from our part of the world."
"We have a lot of work to do to help our sisters around the world survive breast cancer. Modesty is such a big issue and sadly, this results in breast cancer being discovered at a much more advanced stage," said Brem.
Diagnosed with breast cancer in August 2012, guest Salma Hasan Ali underwent a lumpectomy and seven weeks of radiation. "I remember the shock and disbelief, but the gratitude that it was caught early. There's not a lot of discussion about this topic in the Muslim community. People are very guarded about personal health issues." Hasan Ali wrote a series of letters for family and friends hoping her personal essays would start a dialogue about breast cancer. "I wrote the letters to build a community around me so close friends and family would not worry too much and to instill as much hope and will in the five words, 'we'll get through this Insha'Allah (God willing)'." She addressed Brem, "The work you are doing is profound and I say thank you for that. There's a quietness, a hush about it, but we need to share our stories and come together and help each other get through this. There is so much hope in sharing."
Bano Makhdoom remembered being called back after her routine mammogram for an additional screening. "It was the longest 20 minutes of my life. It was like I'd been in the cubicle forever. It was a total numbing of all the senses. We need more platforms to present this information."
Dense breast tissue is an issue that is getting state and federal attention. Virginia is one of only six states that have legislation requiring health care practitioners to inform patients that they have dense breasts. On May 16, Maryland's Gov. Martin O'Malley will sign similar legislation and a federal bill is pending. Statistically, 40 percent of women have dense breast tissue and many are unaware. Brem said one-third of breast cancers in women with dense breast tissue cannot be seen on a regular mammogram and the risk factor for those women is a four to six fold chance of getting breast cancer in their lifetime. "Breasts can be perky dense and saggy dense but the only way to determine if breasts are dense is by mammography," Brem said.
Additional screening with Breast Specific Gamma Imaging (BSGI) and Automated Breast UltraSound (ABUS) technology is recommended for women with dense breast tissue. BSGI or nuclear imaging, has less false positives and is an option for women who cannot have an MRI. With BSGI and ABUS, secondary cancers may be found that would have gone undetected with traditional screening. The Breast Imaging and Interventional Center at George Washington University Medical Center is the only mammography center in the Metropolitan area that has BSGI and ABUS. Brem said that 3-D ultrasound maximizes detection of breast cancers in dense breast tissue. "Through acquisition of the images and the information taken by a physician, we can see 30 percent more cancers in women with dense breasts. They are typically invasive cancers that would go on to become killer cancers if undetected."
Carolyn "Bo" Aldigé, president and founder of the Prevent Cancer Foundation in Alexandria, sees modifying behavior and knowing the risk factors for breast cancer as the key to help bring down the incidence and mortality from the disease. She said, "With what we know right now about prevention and early detection, we could reduce cancer deaths by half."
Rose Agyekum, wife of the ambassador to Ghana, and her daughters, Irene and Linda, were in unison with their gratitude to Brem and Brem Foundation. "Our eyes have been opened in terms of education about breast cancer and research and to know that this hands-on operation [the foundation] is in operation to cure women, catch breast cancer early, and treat it. Dr. Brem is right there one on one. She is literally saving the world one woman at a time and we are extremely grateful to be part of this."
Brem Foundation secretary Cheryl Skillin explained to guest Nilo Mahmood that the foundation began when four women started meeting in each others kitchens. "Look at where meeting in the kitchen can bring you," said Mahmood.
Guest Mona Khan praised Shaista Mahmood for her humanitarianism. "She brings goodwill in the entire community with so many regions of the world coming together." Khan was inspired to make an appointment for an overdue mammogram. "This was an eye-opener. I want to be here and not vanish from this space of the world. As a mother you have so many obligations and one is to take care of yourself."
For more information visit: www.bremfoundation.org.