Photo Gallery
Some Like It Haute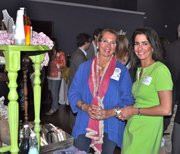 Click Photo for Flash
The Old Town Boutique District held a Spring Style party April 29 at the Old Town Theater to introduce media representatives from throughout the region to the retail offerings available in the historic district of Alexandria.
Among the participating Old Town Boutique District member stores were The Shoe Hive, Hysteria, Pink & Brown, Gossypia, Bishop Boutique, Coco Blanca, Lou Lou, Potomac Bead Company and Olio Tasting Room.
The evening included informal modeling, live music and Mexican cuisine provided by Bittersweet Café.
See www.oldtownboutiquedistrict.com