Mr. Speaker, I rise to commemorate the extraordinary life of one of Fairfax County's more iconic figures, Mayo Sturdevant Stuntz, who passed away May 9, at the age of 97. Mr. Stuntz not only witnessed the historical events that shaped our community, but he and his family also dedicated themselves to documenting, sharing and preserving that history for future generations.
A native of Vienna, Mr. Stuntz spent his early years serving his country. After graduating from Cornell University, he served with the U.S. Army for five years during World War II, where he was a member of the renowned Alamo Scouts reconnaissance unit based in the South Pacific. He went on to serve 25 years with the Central Intelligence Agency. Those accomplishments alone merit our great praise and thanks, but it was what Mr. Stuntz did during his retirement that will leave a lasting imprint on our community.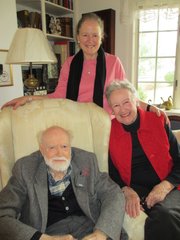 Mr. Stuntz inherited from his parents an interest in history that grew into a hobby and ultimately became his true passion. His family is steeped in Fairfax County and our nation's history. He was a descendent of a Hessian soldier who came to the colonies during the Revolutionary War to fight for the British but wound up switching sides once he learned the impetus for the war. Mr. Stuntz also was a descendent of the Fitzhugh family, which traces its roots in America to the early 1600s. The family owned a large tract of what later became Fairfax County. At one point, the Fitzhughs were close family friends of George and Martha Washington, who had settled in eastern Fairfax, and another Fitzhugh descendant married Robert E. Lee.
Concerned with the disappearing character along the main street in Vienna that he recalled from his youth, Mr. Stuntz set out in the 1960s to photograph every house on Route 123 between Tysons Corner and Oakton. His wife, Connie, was soon pulled into the project, which eventually led to the publishing of three books: "This Was Vienna," "This Was Tysons Corner," and "This Was Virginia." It was also during the mid-1960s that Mr. Stuntz was recruited to join the Fairfax Landmarks Preservation Committee, which would serve as a precursor to the Fairfax History Commission. In a 2005 oral history interview, he said his initial goal was to create a book of historical buildings and homes similar to one he had seen done in neighboring Arlington County. "I didn't realize Arlington is about one-tenth the size of Fairfax County, and I bit off a great deal to chew … and I'm still chewing."
All told, Mr. Stuntz spent 47 years on the commission, chronicling and preserving our community's rich history and culture. In addition to the books he and his wife published, he regularly lectured in local classrooms and community centers. He readily acknowledged that he was not a trained historian, but his local knowledge went back a piece, and he understood the value in connecting the past with our present. It was those connections that continued to drive him, even in his later years, when he lost his sight.
I had the great pleasure of collaborating with Mr. Stuntz on a number of historic marker dedications and Civil War preservation during my tenure on the Fairfax County Board of Supervisors. You could not help but get carried along by his vast knowledge and passion for our local history. I was able to spend time with Mr. Stuntz earlier this spring when we celebrated the Freeman Store, a local Civil War property, being added to the National Register of Historic Places. It was particularly poignant for him as he was the first chairman of the Freeman House ad hoc Historical Commission. His daughter, Anne, is now president of the commission's successor, Historic Vienna. As we reflected on this latest addition to his historic tally, he pulled me aside to ask me if I had purchased my plot at Flint Hill Cemetery. It is believed to be the oldest cemetery in Fairfax County, and Mr. Stuntz had served as president of the cemetery association for 50 years. He had long encouraged me to get a plot before they were all gone, and even now was still trying to close the deal. He was truly a character.
Mr. Stuntz is survived by his wife of 66 years, Connie, their three children, eight grandchildren, and one great grandchild. Mr. Speaker, I ask my colleagues to join me in commemorating the remarkable life of Mayo Stuntz for his tremendous service to our country and community and in extending our deepest sympathies to his family. His strong connection and commitment to our community became a lifelong passion that has preserved milestones in our history for future generations and inspired others to pick up where he left off. He also was my friend, and I shall miss his smile and warm presence terribly.