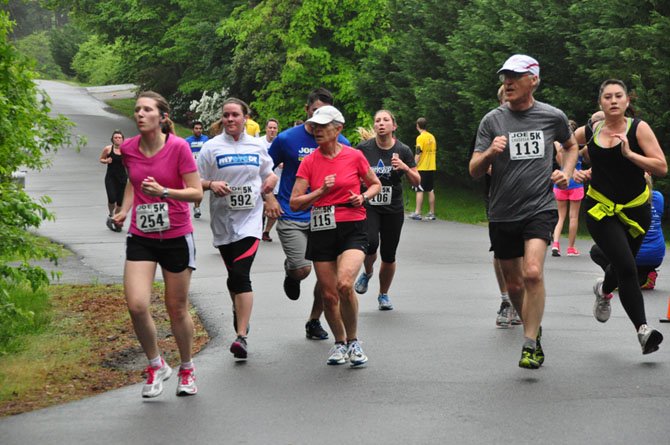 Great Falls — Frank Cassella remembers his brother Joe as a man who had very high character. Even throughout Joe's 10-month battle with mesothelioma, which claimed his life in July 2009 at the age of 40, Frank remembers a brother who embraced support, not pity.
"Joe had a real soft spot for kids, especially sick ones. When he went into business in Great Falls and heard stories about a kid with cancer and one who had been in a terrible accident and was paralyzed, he felt compelled to do something," Frank Cassella said. "So he hosted his own 5K Run, with money out of his pocket, just to help these kids. Because Joe embraced support, not pity. Pity is when you hear a sad story and say 'oh, that's sad,' but don't do anything about it. Support is when you get out there and do something."
Hundreds of runners gathered at the Great Falls Village Centre Sunday, May 19 to live up to Joe's legacy, to do something. The fourth annual Joe Cassella 5K raised funds for two local children dealing with life threatening illnesses.
Tara Sankner, an 8-year-old girl who attends Lees Corner Elementary School, was recently diagnosed with inoperable brain cancer and is currently about 10 weeks into a 70-month chemotherapy treatment.
The race took runners 3.2 miles around the roads just south of the village center, and while the morning was overcast and cool, many runners enjoyed the conditions.
"It was misting while we were running, which was pretty nice considering how hot it's been in years past," said David Grant of McLean. "The street was a little bit slippery and the humidity made it tough, but it was a good race, and clearly it was all for a good cause."
The Joe Cassella 5K provided the Sankners with a check for $10,000 Sunday as a result of money raised from the 5K.
"When you're out there breathing hard and sweaty and aching legs, all you have to do is keep in mind what that little girl and her family go through, not for 40 minutes, but for months and years, and it gives you the energy to take that next step," said Emily Banks of Chantilly, who ran in the race. "Then you look around at everybody doing the exact same thing, and you feel just fine."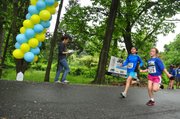 Frank Cassella said he was grateful, as he is every year, for the support the community gives the event.
"Nobody here had to get up and come out on a Sunday morning, didn't have to waste part of the weekend here, or run, walk or volunteer in the rain, but they felt compelled to," he said. "That's the same feeling that Joe had all those years ago."
The foundation was also able to donate $6,000 to the family of Cecilia Nguyen, a 10-year-old girl diagnosed with bone cancer, and currently in the middle of 9 to 12 months of chemotherapy and with a surgery scheduled.
The Joe Cassella Foundation has raised more than $200,000 for children in the Washington, D.C. metropolitan area in the past four years.
More information is available at www.joecassellafoundation.org.