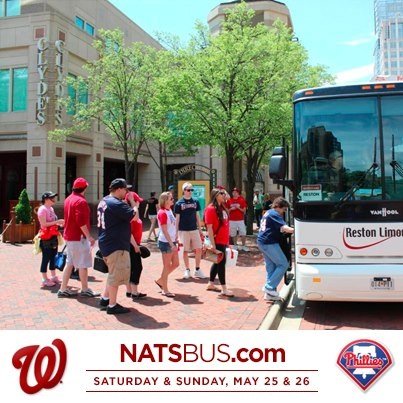 Reston Town Center showed some serious "Natitude" on Saturday, May 11 when the Ballpark Bus made its debut, shuttling over 40 baseball fans to Nationals Park from Clyde's of Reston.
Ballpark Bus, also known during baseball season as "The Nats Bus," organizes bus trips from area restaurants to Nationals games, Redskins games, and other major events, such as the Kenny Chesney concert on May 25 and the Paul McCartney concert on July 12. Individual bus seats are sold online at www.BallparkBus.com. Small personal coolers are welcome on board as long as they don't block the walkway.
"We connect sports fans who are looking for a fun, safe and easy way to get to the game," says Brian Bowman, founding partner. "And by running from great restaurants like Clyde's of Reston, the fun can start well before we depart and continue long after we get back."
Fans board the bus just outside of Clyde's entrance along Market Street, and are then dropped off at Nationals Park near the First Base Gate. The bus begins its return trip to Reston Town Center 20 minutes after the game is over.
The service started last year from Clyde's Willow Creek Farm in Ashburn. As ridership has steadily increased, the company has focused on adding five to 10 additional locations this season. Reston is the second location to be added, and will be quickly followed by The Bungalow Lakehouse in Sterling on Saturday, June 8.
To purchase seats and to learn more, visit www.BallparkBus.com.