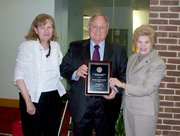 The Ronald M. Bradley Foundation recently received an "Excellence in Aging Award for an Organization" for its commitment to the City of Alexandria's holiday Meals-on-Wheels program.
"We are thrilled the city has chosen to recognize Mr. Bradley," said Janet Barnett, executive director of Senior Services of Alexandria. "He has made such a wonderful difference in the lives of our seniors with the holiday meal program."
Since 2008, the Foundation has generously donated to SSA in order to complement the city-funded Meals-on-Wheels program by providing special meals on holidays to seniors who are unable to leave their homes to shop or who have difficulty preparing meals on their own.
"We are happy to work with Senior Services of Alexandria and its volunteers to help make the holidays special for these seniors," said Mr. Bradley as he received his award.
SSA, working with the City of Alexandria's Division on Aging and Adult Services, delivers meals to Alexandria's seniors 365 days year. Holidays can be an especially lonely time for a senior who has no family or friends in the area. One Meals-on-Wheels recipient recently told the volunteer delivering his meal that the meals he receives on the holidays are "very special and truly the best."
Through the years, the Ronald M. Bradley Foundation has also provided funding to other organizations with efforts directed to improve the lives of seniors everywhere including: the Alzheimer's Association, the American Heart Association, Leukemia and Lymphoma Society, the Foundation for Fighting Blindness and Memorial Sloan-Kettering Cancer Center.
This award was just one presented at the "2013 Excellence in Aging Awards" held on May 14 at City Hall that recognized community leaders and organizations that have made outstanding contributions to elevating the quality of life of older Alexandrians. Other awards included the Annie B. Rose Lifetime Achievement Award to John Freeman; the Lois Van Valkenburgh Excellence in Aging Award for an Individual to Dr. Dan Kulund; Public Service Award to Shane Cochran; and Senior Taxi Drivers Awards to Kwabena Anim and Daniel Woldemichael.