Alexandria — 'Twas the night before Christmas, literally, when a man walked into the Senior Services of Alexandria office and handed an envelope to then-executive director Janet Barnett. The year was 2007 and the man was Ron Bradley.
"Ron asked how he could help the seniors of Alexandria," Barnett said. "When I explained that the city did not provide meals to seniors on holidays, Ron stepped in with $10,000 to fund a holiday meals program. But he had a condition — that they could not be ordinary meals. He wanted our seniors to enjoy a festive meal just like we do at home."
The Holiday Meals on Wheels program continues today and on Feb 28, Bradley will become the first recipient of the Senior Services of Alexandria Philanthropist Award at the annual SSA Generation to Generation Gala. The event will also honor June Geoffray and her son Christopher Campagna and John and Bea Taylor and their daughters Karen Taylor Chandler and Rhonda Taylor.
"This year's Generation to Generation honorees represent what is best in Alexandria," said SSA executive director Mary Lee Anderson. "Both families have very deep roots in our community and each generation has built on the legacy of their parents and grandparents through dedication to improving the lives of others and making our city a better place to live for everyone."
Bradley, through the Ronald M. Bradley Foundation, continues to fully fund the SSA holiday meals program.
"The first recipient of the SSA Philanthropist award, Ronald M. Bradley, exemplifies the spirit of selfless giving," Anderson said. "The Holiday Meals on Wheels program is a result of his vision and personal commitment to make sure that our seniors are not forgotten on days of community celebration. They can count on a special meal, the smiling face of a volunteer and the knowledge that one person can make a real difference in so many lives."
"This year's Generation to Generation honorees represent what is best in Alexandria."

— SSA executive director Mary Lee Anderson
THE CAMPAGNA name is synonymous with service in the city of Alexandria, but that service extends beyond the walls of the building on S. Washington Street that bears the family name.
June Geoffray is a fifth-generation Alexandrian who started volunteering at the age of 10. In the 1960s, she was heavily involved with several local organizations including the Alexandria Community Y and served with Alexandria's first Head Start Program. From there, Geoffray volunteered to establish Interim House, as well as assisting the city's Christmas for Children in Foster Care. In the 1980s, she was a board member of both the Northern Virginia AIDS Ministry and the Alexandria Boys & Girls Club of Greater Washington.
Christopher Campagna's volunteer work was inspired by his mother as well as his grandmother, Elizabeth Ann Campagna, whose dedication to social work led to the Campagna Center being named in her memory.
Campagna's commitment to the Alexandria community is evident in his many years of dedication to the activities of the Campagna Center, where he serves on the board of directors. He is also involved with St. Paul's Lazarus Ministry and has served as a board member and chair of St. Anthony's School Scholarship Fund. A long-time volunteer with Senior Services of Alexandria's Meals on Wheels program, Campagna can be counted on to deliver meals in his four-wheel-drive vehicle whenever there is a snowstorm. He is also a personal and corporate supporter of many local nonprofits, including Carpenter's Shelter, the Men's Home and the Alexandria Seaport Foundation.


JOHN TAYLOR'S family dates back five generations in Alexandria and Bea Taylor's dates back three. They met in high school and celebrated their 60th wedding anniversary this year. For decades, giving back has always been an anchor in both their families — a value that they passed on to their two daughters, Karen Taylor Chandler and Rhonda Taylor.
Much of the Taylor families' involvement in giving back includes the areas of community, church and school service. John Taylor has worked extensively with Alexandria Elks Lodge #48, including serving as its Exalted Ruler.
Bea, Karen and Rhonda Taylor's service includes multiple projects with the Roberts Memorial United Methodist Church and Elks Club Israel Temple #138, including coordinating a "Baby Shower" that includes baby items for teenage mothers and overseeing the Elks' annual pre-Thanksgiving dinner to which all seniors in the city are invited. In addition, Bea Taylor has played an active role in the Beautification Program of the City of Alexandria, worked at the polls during elections and held many PTA offices. For over 11 years, Bea Taylor was a dedicated worker at Senior Services.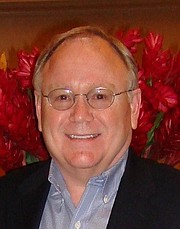 BRADLEY is co-founder and former CEO and President of Bradson Corporation, a professional services company providing accounting, financial and business management services to federal government organizations. From 1983 through Sept. 30, 2006, Bradley directed the growth of Bradson from its first contract award in 1983 to provide financial and program management support to the MK 46 Torpedo Program at the Naval Underwater Systems Center in Newport, R.I., to numerous long-term contracts with the Department of Defense, Department of Homeland Security and other federal government organizations. On Oct. 1, 2006, Bradley sold Bradsob Corporation to a public company trading on the NASDAQ.
While Bradley has resided in Alexandria for over 16 years, he hails from the town of Dundee, Mich. (pop. 2,500), where his mother still resides. He attended Michigan State University with the help of a four-year ROTC scholarship and graduated with a B.S. degree. He then served as a commissioned officer in the U.S. Army for six years. While in the service, he pursued and received an M.B.A. from Mount Saint Mary's College.
Currently, Bradley manages a private investment portfolio and is the President of the Ronald M. Bradley Foundation, Inc., a private foundation focused on supporting various charitable and educational activities. In addition to the SSA Holiday Meals program, Bradley and his wife Danielle support a number of nonprofit organizations, including Foundation Fighting Blindness, Leukemia & Lymphoma Society, National Sporting Library and Museum, Great Meadow Foundation and the Blue Ridge Wildlife Center.
The Senior Services Generation to Generation Gala will be held Feb. 28 from 6-11 p.m. at the Hilton Mark Center. The evening will feature a silent auction and entertainment by Bruthers Plus One. For tickets or more information, call 703-836-4414 or visit www.seniorservicesalex.org.