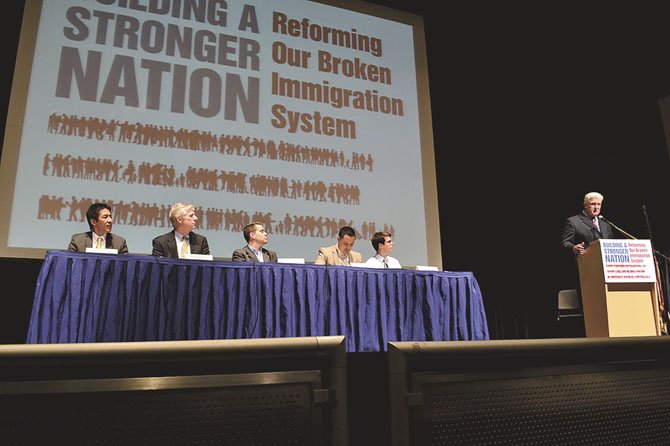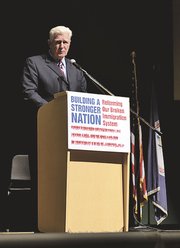 As Congress tries to tackle immigration reform, residents gathered in an auditorium at Kenmore Middle School on Tuesday, May 14, to learn about the various and complex parts of this issue.
U.S. Rep. Jim Moran (D-8) started the forum off by speaking of one area of common ground between both sides of the immigration reform debate.
"To most objective observers, from across the political spectrum, it's clear that our current [immigration] system is outdated, is flawed, is inefficient, and, I believe, is unfair," said Moran, speaking at the forum he sponsored titled "Building a Stronger Nation: Reforming Our Broken Immigration System."
Moran sought to explain how this debate is pertinent to his district, which he describes as "a diverse microcosm of the world" due to the fact that over 27 percent of its population is foreign-born.
The audience also heard from Gabrielle Jackson of Alexandria, who came to the U.S. as an undocumented immigrant from Trinidad and Tobago when she was nine years-old. She recently received a two-year work authorization permit through the Deferred Action for Childhood Arrivals executive order signed by President Barack Obama last year, which applies to undocumented immigrants like her who came to the country as children.
Jackson told of how the she grew up living a typical life in the U.S. attending school, from elementary school to college, and experiencing major life events such as birthdays, Christmases, and her wedding.
"The main difference was that I grew up undocumented, I grew up living in fear that all I have, all that I'm learning, all that I am would be taken away because I don't have a piece of paper," said Jackson.
Jackson spoke of how growing up undocumented she "lived in hiding," despite the fact that the U.S. is a country where "you're taught to shine and to be the best you can be."
Members of the panel each gave arguments in favor comprehensive immigration reform as well as explaining the bill that is currently being debated by the Senate Judiciary Committee.
Patrick Oakford, a researcher at the Center for American Progress, a liberal think-tank, said that immigration reform is also tied to several other issues such as the economy and job growth.
"Our economy is the strongest when every individual is able to reach the greatest economic potential that they have as an individual," said Oakford.
He said just giving legal status to the estimated 11 million undocumented immigrants in the U.S. would create on average 121,000 jobs annually over a 10-year period. He said it would raise the incomes of the undocumented workers who would spend more of their money on consumer goods. "That's going to send out a huge ripple effect throughout the whole economy" because businesses will see increases in sales and will lead to more people being hired.
Oakford, however, said that one of the costs of giving legal status and citizenship to the immigrants that are currently documented would be able to access government social programs such as Social Security. However, he said the Congressional Budget Office had found that the amount of taxes paid by these immigrants would be larger than the amount of benefits that they would receive by two to one.
One of the parts of the proposed immigration that is currently being worked out in the Senate deals with providing the 11 million undocumented immigrants in the U.S. pathway permanent residency and citizenship. While some critics have labeled the bill as giving "amnesty" to these immigrants, Don Lyster, director of the National Immigration Law Center's Washington office, said that there are many requirements that those who fall under this category must meet in order to apply for permanent residency.
Under the proposed Senate bill, undocumented immigrants would be able to apply for a program called Registered Provisional Immigrant (RPI) status. Some of the things required by applicants include being in the country, before Dec. 31, 2011, maintain continuous presence in the U.S. until the day of application, have a job or be in school, settle any unpaid taxes, and can't have committed a felony, and pay a $500 fine. After six years, they would be able to reapply for RPI once they meet certain requirements. Once 10 years have passed, they would be able to apply for permanent residency once they have met another set of requirements.
Another aspect that the bill deals with is border security and enforcement. According to a summary of the bill provided by Moran's office, the Secretary of Homeland Security must develop a plan to achieve a "90 percent effectiveness rate for apprehensions" of those trying to enter the country illegally through the southwestern border. Also, immigrants would not be able to apply for RPI status until such a plan has been put into action.
However, according to Kristian Ramos, the policy director of the 21st Century Border Initiative at NDN, a center-left think tank, says that much progress has already been made in securing the U.S. border with Mexico and some parts of it are already at a apprehension rate of 90 percent.