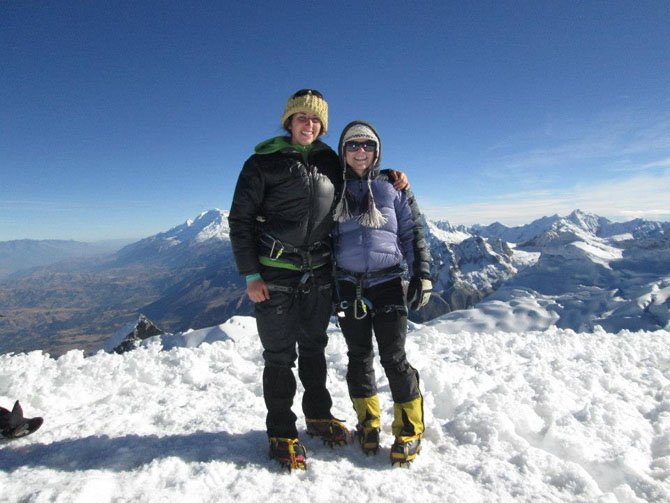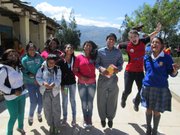 Remember those fun geography games in elementary school?
Well, Arlington resident Alison Foley is using those past experiences to introduce geography to the children and young people of Peru through MUNDO the program she co-created with her Peace Corps site mate Keren Eyal in Ancash, Peru.
After receiving a grant from USAID, they started the program in late 2012.
The program focuses on "educating kids about the world while training promising youth leaders who have a new outlook on their lives and their futures."
"We hope that by training our youth leaders in leadership skills and goal-setting, we are setting them up to become the future leaders in Pariahuanca and San Miguel de Aco," she said.
According to Foley, there is a great need for "strong youth to represent their peers" and raise their voices against the risks that teenagers face in their community.
Another goal of the program is to turn these student leaders into "activists for their small towns."
"We also hope that they start to dream — that they start to believe in themselves, and that they know that they can become whomever they want to become." She said.
Currently, MUNDO has 30 to 40 children participating in the geography sessions, eight teenaged youth leaders — Jhon, Pamela, Anabel, Lesly, Thania, Maria Hillda, and Nilton — and six dedicated university students.
Foley and her site-mate started the program because they "saw a great need to educate our communities in geography."
"Geography is not a priority in the educational system in Peru ... very few of our students could even locate Peru on a world map," she said.
They designed the program based on lessons and projects from their own memories of geography class.
"At the beginning of the class, we 'fly' the kids into a new country where we learn all about its history, geography, tourist attractions, food, sports, and arts," she said.
Their elementary students have started to "identify continents, countries, and geographical features on maps." Moreover, they are excited about new foods "Mango Sticky Rice," travel, and new sports like field hockey and football.
Not only does MUNDO provide students with a fun way of exploring geography, it also helps to prepare them to be leaders and chart out their own educational and professional paths.
They have shown "incredible progress during the sessions, not only in planning educational and fun activities but also in their confidence," she said.
The program also tries to enrich each student's emotional well being as well. "These young women and young men who would barely speak in front of their peers in the past, are now speaking with confidence and conviction," she said.
All of the students hope to go on to study at the university which is a rarity in their communities.
"We are so proud of them," Foley said.
She decided to join the Peace Corps because she wanted to "live somewhere completely different" and immerse herself in that country's culture.
Peru's people and culture have made a lasting impression on her.
"The people of Pariahuanca have been so genuine, generous and kind. It has been an awe-inspiring and humbling all at once," she said.
Living in Peru has taught her that "being poor doesn't imply suffering. Peruvians also know how to enjoy themselves, no matter where they are."
She also learned to enjoy preparing and eating "cuy" or Guinea pigs which is a delicacy in Peru.
According to Foley, homesickness is a big part of being a Peace Corps volunteer. She especially misses various parks and diverse restaurants in Arlington.
"Peace Corps volunteers dream about food day in and day out. And I'm convinced that Arlington has the best food in the world. I'm excited to eat Bangkok 54's drunken noodles," she said.
In the meantime, Foley copes by cooking, running or hanging out with her host family. On Sunday, she will run in a marathon in Lima. Her first marathon was in Pacasmayo, Peru.
When her assignment ends in August, she plans to do some traveling around Peru before heading back to Arlington in September.
For now, her immediate plans include readjusting to life in the U.S. and "playing it by ear." Eventually, she is hoping to look into providing creative services (video, web and graphic design) for non-profits and organizations possibly in foreign countries.
Foley graduated cum laude from Clark University with a B.A. in Spanish and screen studies with a concentration on international studies.