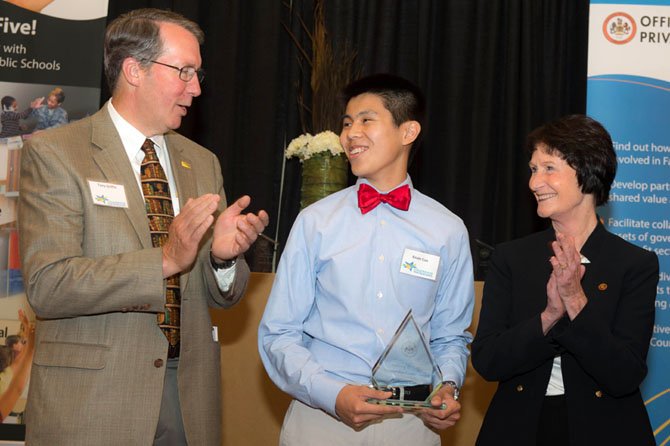 In the summer of 2012 when most high school seniors are working on their college essays or lounging by the pool, Kevin Cao, a senior at Thomas Jefferson High School for Science and Technology, decided to do something different.
He envisioned a service project, contacted Fairfax County Public Library staff to gauge interest, and put the wheels in motion to create a program where older students offer tutoring to younger students in communities where there is a significant need.
*OP3 Award Winners
Small Business Resource Champion—Comstock Partners
Blue Ribbon Partnership—Partnership for a Healthier Fairfax
Community Resource Connector—A Way Forward
Media/Communications Partnership—Univision
Large Business Resource Champion—Target
Tony Griffin Partnership Leader— Kevin Cao, Thomas Jefferson High School
*Fairfax County Public Schools Award Winners
Blue Ribbon Mentoring—Providence Elementary School
*Blue Ribbon Outstanding Event—Exxon Mobil Corporation, Micron Technology, Northrop Grumman Information Systems, Noblis, SRC Inc.
*Blue Ribbon Workforce Development—DoD CIO & IT/TM
*Community Partner of the Year—Fairfax Symphony Orchestra
*Business Partner of the Year—Time Warner Cable
*Bruce Oliver Leadership Award (Business)—Judy Hubka, Exxon Mobil Corporation
*Bruce Oliver Leadership Award (Community)—Evan Glazer, FCPS Thomas Jefferson High School for Science and Technology
He co-founded Growth and Inspiration through Volunteering and Education (GIVE), which encourages and supports "participation in community organizations and other activities that address community needs and opportunities." Through GIVE, he began tutoring, seeking volunteer tutors, reserving rooms at five library branches and publicizing the new service in English and Spanish.
Between October 2012 and February 2013 his partnership with the library served more than 300 students through 1,450 tutoring sessions. If the library or Kevin were to charge even $15 per session, the value would equal more than $21,000.
Cao was recognized for his giving with the Tony Griffin Partnership Leader Award at this year's Celebrate Partnerships Awards Ceremony on May 21. The event is hosted by Fairfax County and Fairfax County Public Schools.
"Even at his young age, Kevin Cao exemplifies what we all seek in a community leader, someone with vision, compassion and the wherewithal to take an idea and make it happen for the benefit of people, not just our family or our friends or even ourselves, but to create partnerships that benefit the community as a whole," said Tony Griffin, former Fairfax County Executive.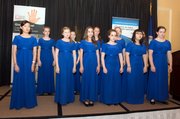 Cao was one of 12 individuals and groups honored at the event, held at the Mason Inn and Conference Center.
More than 55 businesses and community groups were nominated for these annual awards, which focus on individuals and groups who partner with Fairfax County and FCPS to give back to the community in which they work and live.
The event was attended by more than 380 people who heard from Fairfax County Chairman Sharon Bulova, Fairfax County School Board Chair Ilryong Moon, Deputy Division Superintendent Richard Moniuszko and Fairfax County Director Rob Staltzer.
"Hundreds of our local business and individuals are giving their time, talent and resources as partners in the community. When businesses, the County, FCPS and the local nonprofits team up everybody is a winner," said Patricia Stevens, Executive Director, Fairfax County Office of Public Private Partnerships.
"Together with Fairfax County, we are continually amazed at the generosity and talent our partners provide on a daily basis. These partnerships positively impact our community's youth, which I predict will create a better tomorrow," said Jay Garant, Coordinator, Business and Community Partnerships, Fairfax County Public Schools.