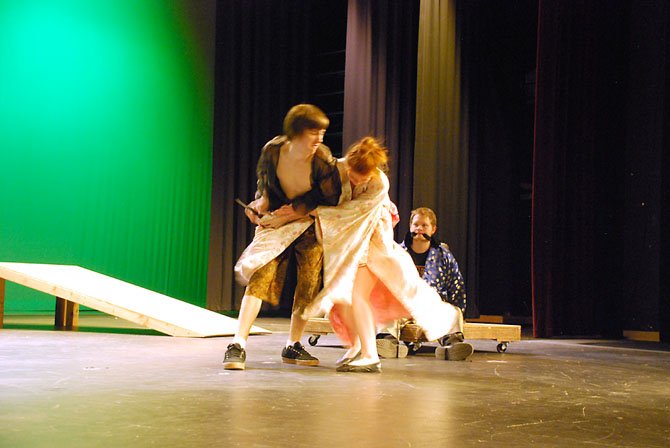 With various interpretations of a single event during the rainy season in ancient Kyoto, Lake Braddock Theatre's presentation of Fay and Michael Kanin's adaptation of Ryunosuke Akutagawa's "Rashomon" brought the dramatic realities of the samurai code, bushido, to life through both intensity and humor.
The show incorporated fantastic use of aisles, with actors coming from every which way. Dramatic lighting effects with vivid colors of blues, reds and greens, each with symbolic meaning, contributed to the setting and mood.
The wide-open space for the setting allowed for sword fights when the Kyoto Gate was not on stage. The background with bamboo trees and rocks was simple, yet oddly appropriate. Characters hid behind these bamboo trees within these conflicting interpretations, while the subtle character changes made in each version of the story by the actors were appreciated.
The story involves altercations and interactions between the wife (Sarah Beck), the thief (Liam Finn), and the husband (Zach Newby). Sarah Beck, the assertive and aggressive wife, utilized strong character choices and brought commitment to her character. Liam Finn moved around the stage well and his sword fight with the husband was humorous.
One of the more enjoyable scenes involved the medium and the medium's apprentices. Their swift movements, in synch with the beat of the drums, carried intensity and fire as they performed a dance with flags in front of the bloody, red background.
Makeup was well done, for not only the main stage characters, but also for the dead. Light cues and spotlights were on-point throughout the show while background sounds such as the pouring rain always managed to enhance the scenes.
With truly a unique effort, The Lake Braddock Theatre's production of "Rashomon" brought energy and intensity to the stage.