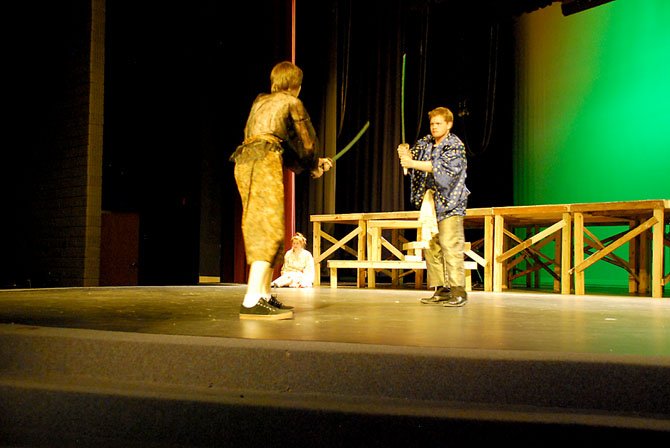 Nineteen years ago, Lake Braddock drama teacher R.L. Mirabal and local choreographer Casey Kaleba worked together on "Rashomon," the staged version of Akira Kurosawa's 1950 dramatic film rooted in Ryunosuke Akutagawa's Japanese folkloric stories and "In a Grove."
Mirabal, who has been teaching at the high school since the 1990-91 school year, was directing back in 1994; Kaleba, just a student at the time, played the woodcutter character.
The plot of Kurosawa's work more closely follows that of "In a Grove," while drawing more setting influences from "Rashomon." The film director chose to have the parable center around a dead samurai and four different accounts of not only his demise, but the rape of his wife and the involvement of a notorious criminal—all offered during a court proceeding.
The court hears understandably conflicting yarns from the thief Tajomaru (played by sophomore and Burke resident Liam Finn), the woodcutter, the husband samurai (told posthumously through a "medium"—character played by senior and Burke resident Zach Newby)—and the samurai's wife (played by senior and Burke resident Sarah Beck).
"In her story, she's a liar," said Beck about the wife character. "But she tries to show off that she's innocent. She likes to play games. It's one of the most challenging roles I've had to take on. Myself, I'm not actually a mean person; I'm too nice."
TO COMMEMORATE THE 40TH ANNIVERSARY of Lake Braddock, each drama production this year is one Mirabal has already directed in his 23-year career at the school. According to him, "Rashomon" was a solid choice to revisit and show off a tight group of talented upperclassmen.
It was also an opportunity to bring back Kaleba, who has made a name for himself as a highly sought-after fight choreographer in the DC-area theater scene. "He's a stand-up comedian with weapons," said Mirabal, "making a living out of beating people up."
Every two weeks during rehearsal season, Mirabal has given Kaleba a three-hour session with the cast to dedicate to the show's demanding choreography. Not only are there a number of complicated samurai katana bouts, but the two veterans have staged an epic battle to open the play and give a central set piece (the gate of Kyoto) some context.
After a motion workshop with the entire cast, Mirabal suggested to Kaleba: "What about if we do this opening segment, this onslaught murder?" The scene is one of several creative additions Mirabal has made. Others include casting entirely new characters whose lines are text taken directly from Akutagawa's original works.
These additions are "by no means long," said Mirabal, and don't "interrupt the flow. There's a rich, beautiful description of the gate, the time period, and how people treated their dead. It's helpful to set the image of what's going on."
Akutagawa's stuff is about where we came from and what we are, in a time period when they were trying to be so modern, and so Western," Mirabal continued. "People see this movie and forget that it's a Japanese story. They can put it in any time and any place. I wanted some aspect of it to be Japanese. At least I can get the original words in there."
THOUGH MORE OR LESS REMOVED from Akutagawa's own 1920s-era Japan, his tales of deception, violence and honor contain timeless messages.
"Like for couples and relationships," said Anna Coughlin, a junior from Burke who is the understudy for the samurai's wife. "You're trying to find fault—it really lies a little bit everywhere. You can't always pin it in one place; everyone's equally guilty. Everyone will always think they're innocent, and go to great lengths to prove it, not only to everyone else but to themselves even more so."
"It gives the audience conflict," added Finn. "[They have to] take sides: Maybe I think the samurai is cool, honorable, but then everything is flipped upside down. Expect the unexpected."
And try to avoid the opening onslaught murder.