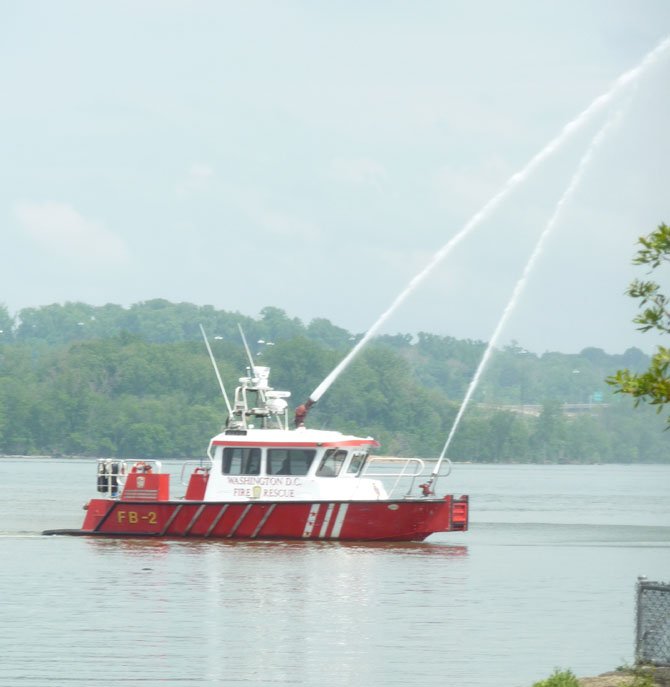 Photo Gallery
'Fair Winds and Following Seas'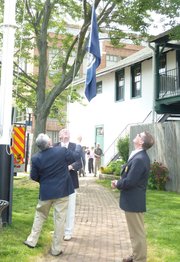 Click Photo for Flash
Dreary skies and weekend rains cleared as members, dignitaries and guests of the Old Dominion Boat Club gathered at the foot of King Street May 19 for the 133rd annual flag raising ceremony.
"These flags symbolize the unity between the city, the state, the United States and the Old Dominion Boat Club," said Mayor Bill Euille prior to the yearly tradition of hoisting new flags to kick off the official start of a safe boating season. "This ceremony is a tradition that has been passed down for 133 years to the young people of our community."
The U.S. Coast Guard Ceremonial Honor Guard presented the colors, which was followed by the singing of the national anthem by Jessica Fuller and a blessing for the safety of boaters by Pastor Carl Rush of Bush Hill Presbyterian Church. New flags were then individually hoisted atop the gaff-rigged flagpole at 1 King St.
The ceremony concluded with a water cannon demonstration by the fireboat John Glenn on the Potomac River.
"Thank you to the Old Dominion Boat Club for what you do each and every day in your youth and philanthropic endeavors," said Euille as he congratulated the club members. "Congratulations and best wishes for a season of boating safety."