Photo Gallery
Paddleboarding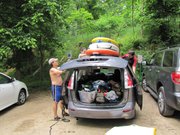 Click Photo for Flash
More on Potomac River
Saturday, June 1:
Celebrate National Trails Day with the C&O Canal Trust and REI at Great Falls Tavern in the C&O Canal National Historical Park. Help with trails and park stewardship projects. Contact Becky Curtis at curtis@canaltrust... or 301-745-8889 for more information about Canal Pride Days and other volunteer opportunities.
Saturday, June 1: 9 a.m. – 2 p.m.
Celebrate National Trails Day with a morning of service and outdoor fun. From 9 a.m. to 11:30 a.m., volunteers to help restore the towpath and trails, remove invasive plants, prune back vegetation and pick up trash near the River Center at Lock 8. Contact Lien Vu at vu@potomac.org or 301-608-1188, x215. Potomac Conservancy's River Center is open Saturdays and Sundays from May through October, from 11 a.m. to 2 p.m.
Michael Katz took his first stand-up paddle board lesson last August with Potomac Paddlesports. Now his entire family is hooked, even creating a business around the sport.
"It changed my attitude towards the Potomac River," said Katz after time on the river Memorial Day afternoon. "I got very serious about it."
That's what Sunny Pitcher hopes to do by offering kayak and paddleboard instruction and more; Pitcher owns and founded Potomac Paddlesports, www.potomacpaddlesports.com, and opened its additional location in Potomac Village earlier this month, Potomac Outfitters.
"Paddling is more than a sport, it's a path to a life in the wilderness. that's really what it is," said Pitcher.
Living in Potomac and not paddling is like living in Vail or Aspen and not skiing or snowboarding, he said.
"It's a privilege to have a business where you are guiding people in the outdoors," said Pitcher.
Paddleboarding is one of the ways people can navigate the river and canal along with kayaking and canoeing, as well as running along the canal and its trails, birding, biking.
"Getting people out there, their senses are so heightened," said Pitcher. "So they're extremely receptive to everything, they are receptive to the sport, receptive to nature, receptive to conservation ideas, so it's just like a great seed that gets planted with every class."
Katz has collaborated on design and manufacturing of inflatable stand-up paddleboards, offering them for sale on the Earth River website www.pumpedupsup.com.
"You can keep going where you want, and you can always rest when you want," said Katz's daughter Andrea Aresta-Katz, before heading inland to ride a horse later on Memorial Day.
"When we paddle around the river, people keep taking pictures," said his daughter Natalie Aresta-Katz, a student at Holy Child.
"A lot of people have never seen it before," said Sandra Aresta.
She said within an hour and a half at her first lesson she found her balance. "If I can do it, anybody can do it." Paddleboarding gives a different vantage point, a different look at and in the river, said Chris Higgins, who finished a three-hour tour, getting out of the water just after Katz's family pulled out of the Angler's parking area.
Katz and Higgins both say the fitness aspect to the sport is another benefit.
"A lot of people do it as their workout instead of going to the gym," said Katz.
"A complete body workout," said Higgins, who teachers paddle boarding in Reston. "After three hours of this, I'm smoked. I'll be sleeping good tonight."