The Potomac River has always been Sunny Pitcher's most productive advertisement.
"We can't take credit for any of it, it's all due to the river, we're just kind of ambassadors for the Potomac and for the park and we're trying to be great stewards and great guides getting out there and instilling some of these values in people," he said.
Pitcher, founder of Potomac Paddlesports, opened Potomac Outfitters last Thursday, May 2, in the Potomac Promenade, in the mall next to Potomac Pizza.
Photo Gallery
Potomac Outfitters' Store Opening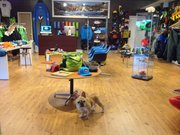 The Potomac Outfitters' store in Potomac, Maryland provides a wide variety of kayaking equipment.
Click Photo for Flash
"It's a privilege to have a business where you are guiding people in the outdoors," he said.
Pitcher's Potomac store, Potomac Outfitters, offers Patagonia clothing, kayak gear, running gear, shoes, kayaks, as well as guides to help people enjoy the outdoors either on the river, on the Billy Goat Trail, or walking or running on trails or on the towpath. Pitcher works with more than 40 guides, who teach white water kayaking, sea kayaking, and paddleboarding. He plans to have running and trail guides and running groups, too.
"With as much experience as we have out there on the water, in the park, it's good, because we can actually articulate the right way to get out there and recreate in what's the greatest geological and recreational resource within a two to three hour drive," he said.
"Everybody always refers to the Potomac, but we kind of forget about the fact that its one of the busiest national parks in the country, right there at C&O Canal National Historical Park. If we can serve the function as a gateway, I think that's our primary objective, to be a gateway for the park and the Potomac River and continue our advocacy for the river and the park."
Potomac Paddlesports partners with other conservancy and advocacy groups, has helped build steps from Anglers to the river, has adopted the road on MacArthur Boulevard near Anglers, and focuses community on conservation.
"Getting people out there, their senses are so heightened," he said. "So they're extremely receptive to everything, they are receptive to the sport, receptive to nature, receptive to conservation ideas, so it's just like a great seed that gets planted with every class."
He has kayak students who are now adults that started paddling at 7, 8 or 9 years old. "They grow up inspired," he said.
Pitcher loves watching the "lightbulb moment" when students figure out how to use the right muscle groups to roll a kayak, "but I also enjoy it when I see a student stopping and watching a great blue heron and their jaw drops, I enjoy that just as much as I do watching them get their first roll."
"I never get tired of it," he said.