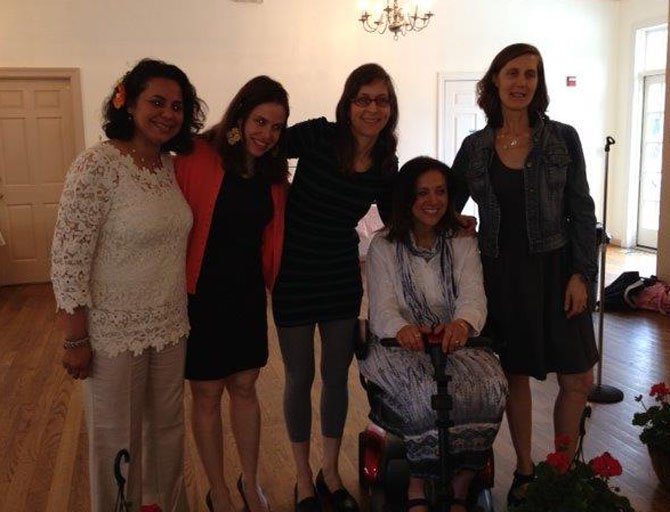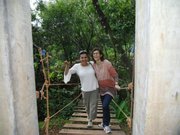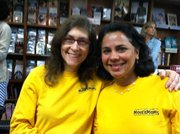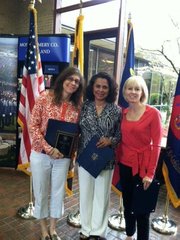 Two weeks ago, MoverMoms Salma Hasan Ali and Rebecca Kahlenberg spent hours in line at Politics & Prose Bookstore with Rebecca's daughter Amanda, waiting for First Lady Michelle Obama to sign their copies of her book, "American Grown."
They were thrilled to meet Obama — and share the MoverMoms' vision and acts of volunteerism with her because she has been such an inspirational role model. Amanda performed a MoverMoms "serving others" dance move, akin to Obama's "The Evolution of Mom Dancing" and Obama said, "I can do that" and gestured back a similar move — along with a broad smile. They also gave her their MoverMoms poster, "50 Ways to Nurture Community."
Kahlenberg co-founded MoverMoms in 2007 to organize moms to regularly perform community volunteer projects. In 2009, MoverMoms was incorporated as a 501c3 non-profit organization. Now, over 200 strong, this organization is known as a group of women, children and a few men who work to make things happen.
This group creates and completes almost 50 projects a year. Among its inspirational programs are Treats-4-Troops, Cupcakes and Current Events, Muffins-4-Moms, Desserts-4-Dads, MoverMentors, Adopt-a-Road, MoverMeals and collection drives for people in need. This summer they will travel to El Salvador for their fourth service trip where they serve as volunteers in a school and at a women's center. They also encourage their children's involvement in most of their service projects. "We are building community," said Kahlenberg.
"We have been volunteering this past year with men and women incarcerated at the Montgomery County Correctional Facility in Boyds," said Ali — who serves as the organization's CIO — chief inspiration officer. "We facilitate mock employment interviews with inmates who will be leaving prison and must find work. Entering the jail was intimidating at first, but working with the individuals themselves is incredibly rewarding. These men and women hope to never return to prison. They truly appreciate the support we give them." Kahlenberg and Ali, along with Potomac's Amy Bell and Karen Simon recently received the Special Volunteer Appreciation Award.
MoverMoms held their first "Inspiration Day" on April 28 at the River Falls Clubhouse in Potomac. Lunch was provided by Whole Foods, desserts by Georgetown Cupcake and inspiration by speakers Elizabeth Petty, Yael Luttwak and Lobna Ismail. Petty opened "Elizabeth's Gone Raw" in D.C. after her personal diet changed radically when she received a breast cancer diagnosis four years ago. Luttwak is the director and producer of "A Slim Peace" and has launched Slim Peace groups, which bring together Jewish and Muslim women with the goal of healthy eating and weight control. Ismail is the founder and president of Connecting Cultures. Her goal is to help people understand one another and bridge divides through dialogue, information and compassion. Ali said, "I think we can all use a dose of inspiration and sense of community, especially with the happenings in Boston and around the world. The idea behind Inspiration Day was to come together as a community, to hear the stories of some of our local heroes and how they are overcoming challenges and promoting good, and to replenish our own sense of purpose."
The second annual July "Zumba Fiesta" is one of the most energetic and fun fundraisers of MoverMoms. The dancers raise money for the group's El Salvador project by exerting energy, dancing, releasing endorphins and raising funds for a good cause at the same time. Look for information about this entertaining and "moving" fundraiser in the next few months.
Kahlenberg said, "All of our events reinforce our mission — to build community, to model service to our children — and to make an impact in many areas of our region — and our world. We promote the sense of volunteerism — as well as the concept that we make it easy for moms to plug volunteerism into their daily routine. If we all do a little — it adds up, and we have done a lot."
To learn more about MoverMoms, to join the group, or purchase the poster, check out their website at www.movermoms.com, or send an email to rebeccakahlenberg@gmail.com.