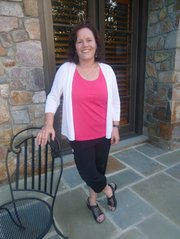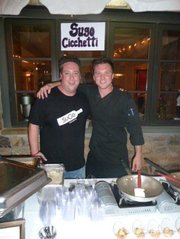 Grilled lamb chops from Cava, tuna tartar from Hunter's Inn, short ribs from Old Angler's Inn, mini-indulgences from Seasons 52 — to sample the finest of fare, make plans to come to the Julia Bindeman Suburban Center on Saturday, June 8 at 7 p.m. for the Taste of Potomac. The venue has moved from Judy and Stuart Sebring's Potomac estate where it was held the past five years.
"The Taste of Potomac will feature plenty of exquisite food, lively disco music and dancing in a Club atmosphere that will remind guests of Studio 54. We want to make this event lively and fun," Judy Sebring said.
This annual fundraiser provides the opportunity to savor samplings from Potomac restaurants as well as to support the work of Adoptions Together. This year's event will honor Marty Janis, CEO of Atlantic Services Inc. for his dedication to philanthropy for the well-being of children in the metropolitan area. ABC-TV anchor Leon Harris and Wizards Sportscaster Steve Buckhantz will serve as emcees and music will be furnished by DJ Extreme.
Fare from Sugo Cicchetti, the Tavern at River Falls, the Grilled Oyster, Mama Lucia, Irish Inn at Glen Echo, Potomac Pizza, Founding Farmers, Fortune Garden, JAVA Works, Dirty Martini, Potomac Village Deli, Rocklands Barbeque and Grilling Company, Tally Ho, Vie de France, River Falls Market, Windows Catering, Zoe's Kitchen, Whole Foods Market and more will tempt diners and give them a taste of many area restaurants they will want to return to.
The evening will also offer live and silent auction items including tickets to a Beyonce concert, a complete dinner in one's home for 10 guests prepared by Cava Head Chef Dimitri, vacations at The Reef Atlantis in the Bahamas, in St. Lucia, Barbados and Antigua, tickets to the Capitals, Redskins, Wizards along with lots of sports memorabilia, rounds of golf at private golf clubs, tickets to TV shows such as The Daily Show with Jon Stewart, LIVE! With Kelly and Michael, the Dr. Phil show, The Doctors, The Situation Room with Wolf Blitzer (includes sitting in the CNN Control Room and a tour) — and more are being added each day. Throughout the evening, there will be "pop-up" auctions led by professional auctioneer Chris Marten. Check out all the live and silent auction items at https://adopttgr.ejoinme.org/.../6thAnnualTasteofPotomac.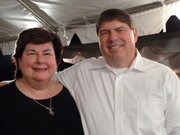 Long-time Adoptions Together board member Jane Phillips and her committee will be creating a "popcorn bar" filled with at least seven different types of popcorn — both savory and sweet. "This popcorn bar will offer a unique dimension to the evening. The popcorn will be freshly popped — and will include flavors like 'rosemary and garlic bread,' 'dill pickle' 'cheesy cheddar,' 'chocolate cake,' 'spicy Chesapeake,"' and 'old-fashioned caramel corn.' We are making certain each type of popcorn is a wonderful treat for our guests," she said.
The Phillips' oldest son, Jeffrey was one of the first children adopted through newly created Adoptions Together agency. He is now 22 years old and just graduated from the University of Maryland. Phillips said, "We are so fortunate to have become a part of the Adoptions Together family. Our other two sons were also adopted through Adoptions Together — we feel so blessed to have our family."
The impetus for the Taste of Potomac is to raise funds for the work of Adoptions Together. Since 1990, the organization has found "forever families" for more than 3,000 children. Janice Goldwater, founder and executive director said, "Today, there are 5,000 children in the D.C. metropolitan area who are living in temporary care, waiting to be adopted. We need to make their dreams come true. This year we have heightened our focus on permanency. We have been working very hard to place older youth in foster care into permanent homes. Every child deserves a forever family. The motto of the organization is 'Every child, every family, and every step of the way.'"
Goldwater continued, "We have expanded our services to helping our local school systems understand the trauma that our children have gone through, how it impacts their learning and what should be done to help them. This carries over to provide the best practices for all children who have had any kind of trauma in their lives. Another new focus for us has been training parents who have been involved with Child Protective Services to be mentors for other at-risk parents. We are also partnering with D.C. Child and Family Services to provide support, guidance and information to the adoption/guardianship community in D.C. through our Post-Permanency Family Center. In addition to providing quality child placement services, we also offer life-time counseling for families, adopted children, birth parents and foster families."
Adoptions Together is seeking families who would like the opportunity to change the life of a child by becoming a "forever family." Mature adults of all races, religions and family structures can make excellent parents. Opportunities are also available to serve in a volunteer capacity. For more information, contact Adoptions Together at 301-439-2900. The website is www.adoptionstogether.org.
Plan to attend the Taste of Potomac on June 8 from 7–11:30 p.m. at the Julia Bindeman Suburban Center, 11810 Falls Road, Potomac. Single tickets are $125 and sponsorships are $500 and up.
For more information go to https://adopttgr.ejoinme.org/.../6thAnnualTasteofPotomac/.