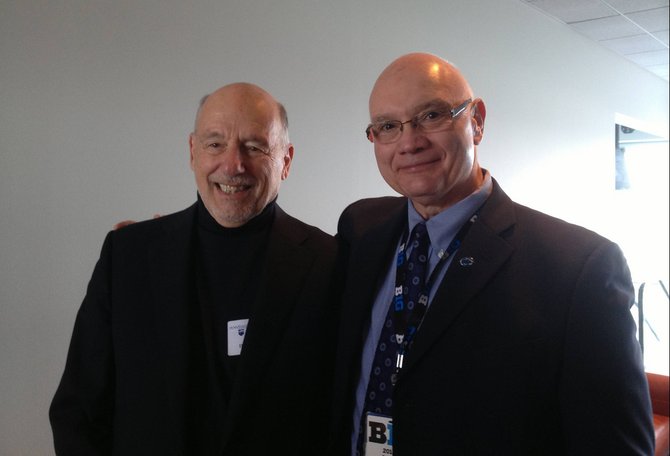 As the Pennsylvania State University community geared up for a busy home football weekend, a visitor from Fairfax was present in the stands: CDaniel Clemente, Rector of George Mason University's Board of Visitors.
Clemente met with University President Rodney Erickson and Athletic Director David Joyner during his visit.
"My official business was that George Mason is the largest university in Virginia, and it does not have a football team," Clemente said. "I was going to the president and athletic director not because we're considering a team, but I think we need to be educated in all values of athletic programs."
Clemente added that it would be important to understand how practical a program would be in interesting to financers as well as affecting the Northern Virginia area.
"I was impressed with the student spirit, and the total involvement with all the athletic programs," Clemente said. "Penn State has 44 thousand students, we have 33 thousand. They have an arena for just hockey for over $100 million, a baseball stadium, a football stadium. It's important to understand how a state university grows and affords all of those special facilities."
Clemente went on to say that though he's visited some of the larger Virginia universities – including UVA and Virginia Tech – that "Penn State is the most successful with its athletic programs," especially in how the football program manages to produce enough funds to support other programs within the university.
As the Rector, Clemente is one of 16 Governor appointees to the Board of Visitors at George Mason. After the appointment process, the Rector is elected to a position equivalent to a chairman. According to state law, the Rector has certain authorities, including making assignments, working with the university administration to set the agenda, and reporting back to the Governor as the Board's official spokesperson.
During his visit, Clemente attended the football game against Illinois, which resulted in a tumultuous overtime win by Penn State. "I'd come back again for another football game!" Clemente said.
In the near future, Clemente intends to have Penn State's athletic director "talk to the Board of Visitors in person, as to the pros and cons of a football program."