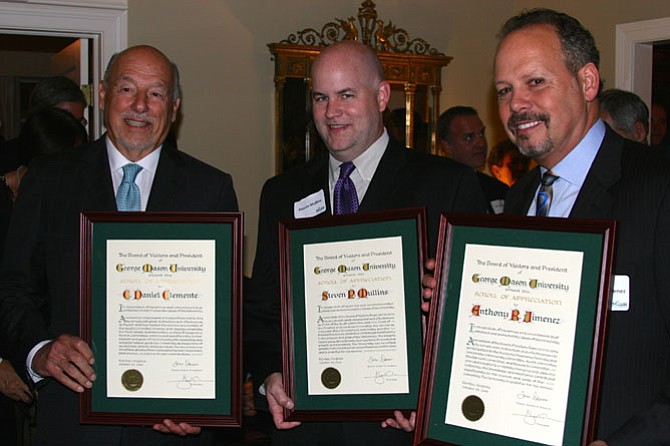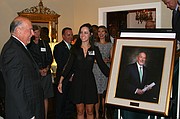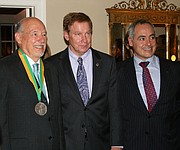 This past Wednesday, Oct. 29, dozens of notable people at George Mason University and in Northern Virginia community gathered at the Mathy House to honor former Rector C. Daniel Clemente and former Board of Visitors members Steven Mullins and Anthony Jimenez for their years of service at the university.
Remarks were given by University President Angel Cabrera, as well as former United States Representative and current Rector Tom Davis. The former members were honored for their service on the board for their term and their work in various committees and as a whole. Clemente, a McLean resident, was also given the Mason Medal.
"The Mason Medal is awarded to those who have a record of service in their community, state or nation consistent with the level and quality of [the man] George Mason's level of service," said Rector Tom Davis, upon awarding Clemente the medal. The Mason Medal is the university's highest honorary award.
"It's not me. I don't rise to the level that George Mason, the man, performed," Clemente said. "But, spread over the 16 people on the Board, all of whom helped me, any of the things I've accomplished I could not have accomplished without all of those people supporting me and feeding me ideas and then voting with me." Clemente continued, "I feel like I took the medal on behalf of the board. To me, the medal belongs to the Board and I'm the person that represents them."
Clemente's accomplishments on the Board include reducing proposed tuition increases by more than 80 percent, initiating a standing committee on the Board for funded research endeavors at the university, and continuing to build George Mason's achievements to benefit the Northern Virginia community.
"The success of a community revolves around its educational system, and in particular higher education," Clemente said. "I think the two most important events that have occurred over the past 50 years that makes Northern Virginia what it is today was building Dulles Airport and founding George Mason University."
Clemente also received a Legislative Joint Resolution recognizing his endeavors during his service. "It is an honor to be able to commend such an outstanding leader in Virginia," Virginia House of Delegates Member David Ramadan wrote to Clemente. Fellow House signers of the resolution included Delegate Barbara Comstock.
Other notable guests at the ceremony included Board of Visitors members Karen Alcalde, Buddy Beck, Reginald Brown, Kimberly Dennis, Anne Gruner, Dominion Power CFO Mark McGettrick, Kelly McNamara Corley, Vice Rector Stuart Mendelsohn, Jon Peterson and Siddique Sheikh, as well as Til Hazel, the first recipient of the Mason Medal.
— Nikki Cheshire