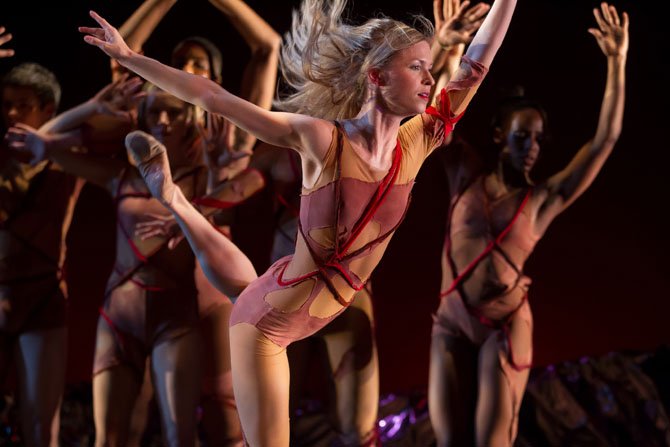 The legendary Igor Stravinsky's "Rite of Spring" caused protests when first performed 100 years ago coupled with the provocative dancing of Njinsky. It was a revolutionary whack at the staid ways before World War I changed everything. To this day it remains an audacious work of the performing arts.
Northern Virginia audiences can see what all the fuss was about with a special "Rite" double-bill with the award winning Bowen McCauley Dance (BMD) company and the Bohemian Caverns Jazz Orchestra (BCJO).
This "Rite" will be performed first as a dance event in the intimate CenterStage. It then moves to a cabaret-style setting as a jazz-infused music performance wafts through the Reston Community Center.
BMD will perform the "Rite of Spring" dance with accompaniment as it was originally composed; for piano four hands (piano duet using one piano). While the "Rite" dance piece has been a staple of modern dance, the CenterStage audience will be treated to fresh choreography developed by award-winning Lucy Bowen McCauley (Arlington).
"I want people to relate to the full emotional range of the work and the unfolding of events in a less obvious way," BMD Artistic Director Bowen McCauley said. "You don't have to know the piece to be emotionally drawn into it. I want the audience to see it each in their own way, as we keep them guessing on what will happen."
The BMD "Rite" will be performed by seven dancers; four women and three men. The uneven number is a key ingredient to the choreography as partnerships shift about until the end.
After a short intermission, the Bohemian Caverns Jazz Orchestra (BCJO) will take center stage in a night-club atmosphere. The 17-piece BCJO will perform an original big band jazz version of "Rite" titled "The Re-Write of Spring." It was arranged by area composer/arranger Darryl Brenzel. BCJO received the 2013 Washington Area Music Association "Big Band" Award.
When and Where
The 100th Anniversary celebration of Igor Stravinsky's "Rite of Spring" performed at Reston CenterStage, Reston Community Center, 2310 Colts Neck Road, Reston, VA 20191. Performances: Saturday, Nov. 16 at 8 p.m. Tickets: $25 Reston, $50 non-Reston. Call 703-476-4500 or visit: www. restoncommunitycenter.com.
"This is an opportunity for an audience to hear a different voice for 'Rite.' It will be an acoustic jazz arrangement. The audience will feel all the vibrations of the instruments without any amplifications," baritone saxophonist and BCJO co-founder Brad Linde said. "The listeners will experience the harmonies and melodies of Stravinsky's work but with switches in instruments."
"The choreography that 'Rite of Spring' generated laid the groundwork for what we call modern dance. It pre-dates the Jazz Age...It is musically quoted in dozens of movies and commercials...influencing our lives for 100 years in ways that will surprise you," said Paul Michnewicz, Director of Arts and Events, Reston Community Center.