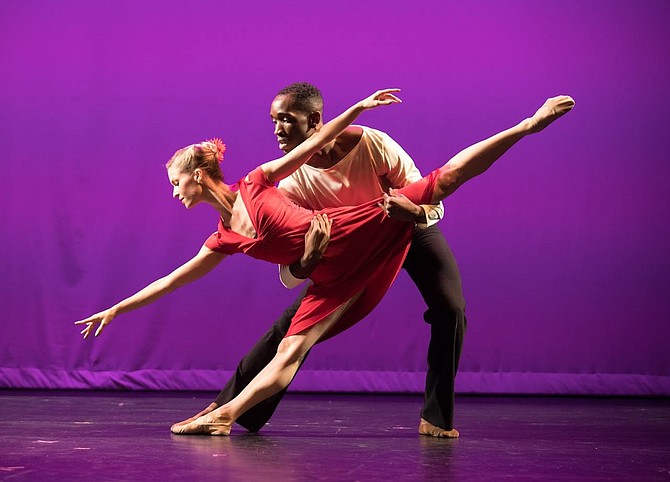 Something unique is in store for patrons of the Fairfax Symphony Orchestra. It is a music and dance program "way off the beaten track. I wanted to combine traditional classical music with music quite removed from those specific traditions," said Christopher Zimmerman, conductor and music director, Fairfax Symphony Orchestra (FSO).
"We are collaborating with the area's premier contemporary dance company, Bowen McCauley Dance Company, whose dancers will perform alongside three of the six pieces in the music program," noted Zimmerman. "The choreography will be newly created for this collaboration by their founder and artistic director, Lucy Bowen McCauley."

The FSO will be performing well-known works such as the Mozart Clarinet concerto, two short Sibelius pieces and an arrangement of Gershwin preludes. Then the performance "culminates in music by the young, provocative Turkish composer, Erberk Eryilmaz, whose two pieces 'concerto for wind instrument, piano, percussion, strings and imaginary folk dancers' and 'dances of the yogurt maker' combine the rawness and fierce rhythmic intensity of Turkish folk music with more established classical traditions," said Zimmerman.
Composer Eryilmaz will be at the FSO performances, both overseeing his compositions' recreations and performing on piano.
Also performing with the FSO will be Macedonian clarinetist Ismail Lumanovski. Zimmerman described Lumanovski as "an artist of jaw-dropping technical abilities on his instrument(s) (he plays three types of clarinets for this concert) and equally accomplished in both the classical repertoire and the folk music of his native land and its immediate neighbor, Turkey."

Lumanovski indicated that the FSO concert "will be very interesting and challenging at the same time. There will be three totally different styles of the clarinet performed in one night with three different clarinets. From the pureness of sound and expression by Mozart, to the loose and swingy mood by Gershwin, and intriguing fast-changing time signatures with exquisite orchestration by composer Eryilmaz."

For choreographer Lucy Bowen McCauley the event "will be very special." She has danced to Sibelius in her career. "It's terrific to approach the same piece as a Choreographer." Using the Gershwin piece choreographically is "an opportunity to hear a twist on the arrangement by the FSO."
Bowen McCauley described composer Eryilmaz's "yogurt-maker" composition as a "very challenging piece…that's intricate and sophisticated. Our dancers are truly enjoying the challenge. For me, it's a privilege to work with a living composer."
Far from the traditional awaits patrons at this distinctive Fairfax Symphony evening.
Where and When
Fairfax Symphony Orchestra (FSO) performs with special guests, the Lucy Bowen McCauley Dance Company and clarinetist Ismail Lumanovski, at George Mason University Center for the Arts, 4400 University Drive, Fairfax. Performance: Saturday, March 9, 2019 at 8 p.m. Tickets: $65, $43, $39, and $25, with $15 student tickets. Purchase tickets online at www.fairfaxsymphony.org or by phone 703-993-2787. Note: Before the concert at 7 p.m., a discussion with the artists and FSO music director Christopher Zimmerman.