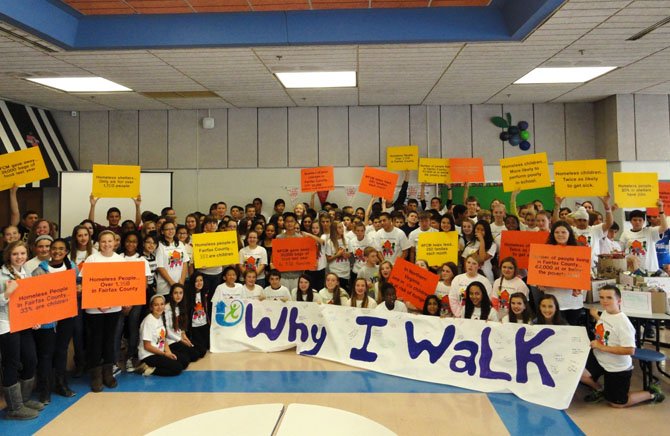 Sometimes, it takes a child to lead the way. And that's true when it comes to the students in Stone Middle School's National Junior Honor Society (NJHS).
"In Fairfax County, one out of six children is hungry."
— Jennie Bush, WFCM Community Outreach manager
After school on Oct. 24, they participated in a Help the Homeless Walk to help Western Fairfax Christian Ministries (WFCM) aid local families in need. Traveling through the neighborhoods surrounding Stone, they carried signs bearing statistics about hunger and homelessness in Fairfax County.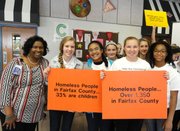 Sure, the students each received an hour of community-service points for their efforts. But more than that, they not only learned about serious problems close to home, but did something about them. By the end of that day, the 136 students participating donated 209 pounds of food for WFCM'S food pantry, as well as $3,180.
"I so appreciate the NJHS students' support," said Jennie Bush, WFCM's Community Outreach manager. "It was an overwhelming turnout and raised so much funding for WFCM; we're very grateful. And we're running very low on food right now, before the Boy Scout food drive on Nov. 9, so this food is very much needed and appreciated by our clients."
Mostly eighth-graders did the walk, each paying a $20 registration fee. And Catherine Burke, Stone's NJHS club sponsor, was proud of their efforts. "I'm absolutely thrilled that so many students decided to dedicate their time and money to help such a great cause," she said. "A lot of them are really passionate about it."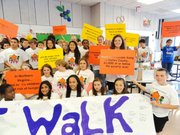 Burke said they "went the extra mile" by making a 15-foot-wide banner so people in the community would recognize them and learn why they were walking. Written in large, purple letters on the white banner were the words, "Why I Walk." And all around them, the students wrote things such as, "to make a change," "to help others" and "to help people in need." Burke wrote, "I walk because our small steps can make a big impact."
Before leaving on their walk, the students gathered in Stone's cafeteria where Bush shared with them some sobering statistics about hunger and homelessness in the local community. She began by explaining how people end up that way in Fairfax County — one of the richest counties in the U.S.
"It's very expensive to live here," she said. "Most of our clients have jobs, but don't make enough to pay their rent and all their bills. There are 1,350 homeless people in the county and 33 percent are children. And many who've lost their homes live with friends or relatives, so they're not counted in the 1,350 and become the invisible homeless."
Others, said Bush, stay in their cars, in tents, in the woods or in a shelter. But, she added, "Most shelters are booked to capacity, so they can only stay for 45 days."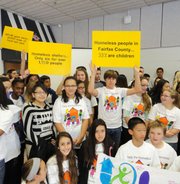 In Fairfax County, she said, 69,000 residents are at risk of hunger and 47,000 students are in their schools' free-and-reduced-price lunch program. "Ninety percent of WFCM's clients live below the poverty level," said Bush. "Single moms are at the highest risk of becoming homeless and one out of six children is hungry."
That's why WFCM's thrift store and food pantry are crucial to the area's poor. Being able to shop there allows them to stretch what little money they have as far as possible. And since the public may also shop at the thrift store, the money earned there goes into WFCM's client-services program.
"Last year we helped 580 families with over $144,000 in financial assistance," said Bush. "This included gas cards, paying bills, giving them budget training and helping them get to doctors' appointments."
She said the community helped WFCM provide almost 2,000 backpacks this September to students at 23 local schools — but even that amount didn't cover all the need. So anything residents can do to help is greatly appreciated.
Bush said students at Stone, as well as those at other schools, can donate food and outgrown clothes to WFCM and fundraise with events such as their walk. "You can also volunteer your time Nov. 9 sorting food," she told them. "Thank you so much for your support of WFCM and our efforts to reduce homelessness and hunger in our community."
More like this story