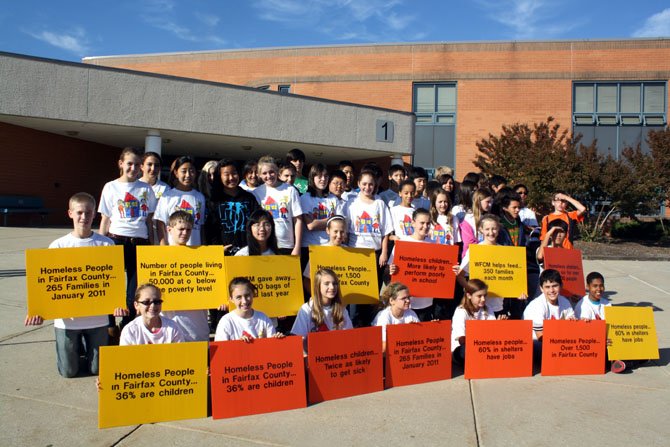 Centreville — Local residents can have a good time while helping people in their own neighborhoods. On Saturday, Sept. 29, from 9-11 a.m., Western Fairfax Christian Ministries (WFCM) is holding a "Help the Homeless" Community Walk, Zumba Class and Family Fun event.
It'll be at the nZone, 14550 Lee Road in Chantilly, and proceeds will help WFCM continue to fight homelessness, hunger and poverty in Centreville, Chantilly, Clifton and Fairfax Station. The fun includes a walk and Zumba class for participants, plus free games, snacks and activities for their children.
"WFCM is proud to once again have been selected as a beneficiary of Fannie Mae's Help the Homeless Program," said WFCM's Community Outreach Manager Jennie Bush. "It raises awareness of homelessness across the country and provides critical resources for nonprofits working to help homeless individuals and families in our community."
The walk and Zumba class cost $20 for age 25 and below, and $30, adults. To register, go to http://tinyurl.com/wfcmcommunitywalkandzumba. In-person registration that day is from 8:30-9 a.m., but Bush hopes most people will register in advance. "WFCM receives 100 percent of the money from online registrations," she said. "But we lose $5 for each paper registration, so we encourage people to do it online." Bush said every dollar's important because "it's money going to help people in our community."
Those unable to be there Sept. 29 may still participate as virtual walkers. Go to the Web site and register the same way. But choose "WFCM Virtual Walk."
In addition, WFCM is in need of items for its Food Pantry, so participants are also asked to bring some non-perishables to donate. "Our pantry shelves are very low right now," said Bush.
The most urgent need is for canned soup, fruit, meat, spaghetti sauce and beans. Donations of dry pasta, white rice, cold and hot cereal, Baby Wipes, toilet paper, toothpaste and laundry detergent would also be appreciated. Collection bins for pantry donations will be at the check-in for the walk and Zumba class.
"In Fairfax County alone, 56,000 people are living below poverty level and 1,500 are homeless." — Jennie Bush, WFCM Community Outreach Manager
Gov. Robert McDonnell has declared Sept. 29 a Day of Service in Virginia. So, said Bush, people taking part in WFCM's event will be serving their neighbors by raising money to help people in their own communities.
"Our goal for the day is to have more than 500 people either walk or take a Zumba class," she said. "I'm so excited because, if we reach that goal, in addition to registration fees, we'll receive an additional $5,000 from Fannie Mae."
Participants will receive a Help the Homeless T-shirt, and the registration fee is tax-deductible. For more information, contact Bush at jbush@wfcmva.org or 703-988-9656, ext. 105.


Through the generosity of local residents, businesses and churches, WFCM helped more than 3,300 people last year with food and emergency rent/utility assistance. But WFCM can't do it alone. "We need financial support, and this event is one of the primary ways we have of getting it," said Bush. "So we really need the community's help."
Besides that, she said, "It's going to be a wonderful, fun morning for the kids. We have lots of games and activities, including moonbounces and face-painting, and the Ox Hill Baptist Church youth group will oversee them."
Bush said it's also a chance for people to make a difference in their neighbors' lives. "I know this recession has hit people in all walks of life," she said. "But the proceeds go to people right here who are struggling to make ends meet, put food on the table and buy winter clothing for their kids."
Noting that the need has been growing for many years, Bush said, "In Fairfax County alone, 56,000 people are living below poverty level and 1,500 are homeless. We have hungry people right here who need help, support and care; and that's what WFCM does — we help our neighbors."